This is an archived article and the information in the article may be outdated. Please look at the time stamp on the story to see when it was last updated.
WESTFIELD, Ind. (April 23, 2015)– More than a dozen people were injured in a stage collapse at Westfield High School's auditorium Thursday night.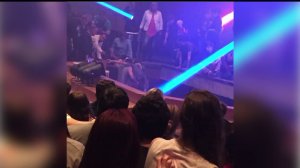 One person was reported to be in critical condition, but police said during an update Friday morning that the student was doing well and was not in critical. All injuries were minor, according to Capt. Charles Hollowell of the Westfield Police Department. The school was hosting the play "American Pie." The stage collapsed as dozens of students were dancing during the closing number of the show.
Police are investigating the stage and its structure to see what might have caused the collapse. Hollowell said the department requested that Indiana State Police assist with the investigation. A forensic engineer has also been called in to assist. The investigation is expected to take at least two weeks.
"I would tell you that by the grace of God there weren't more injuries," Westfield Washington Schools Superintendent Mark Keen said Friday in a press conference.
According to the Westfield Fire Department, the show included 75 performers and 50 staff. Ambulances took six students to area hospitals; 10 other students went for treatment by driving themselves or having their parents take them. Officials at St. Vincent Health said 12 of 13 students treated at its facilities have been released. One student remains hospitalized as of late Friday morning.
Superintendent Mark Keen said the orchestra pit has a cover that can be put in place so performers can get closer to the audience. He said the cover gave way almost immediately. Keen said they were looking at inspection records for the stage and were unclear exactly what caused the collapse. The last inspection was in 2010, and it was due for another inspection in June.
Westfield Mayor Andy Cook said he was "most proud" of the effort from first responders after the stage collapsed between 10:08 p.m. and 10:10 p.m. Thursday. He spent much of the night visiting hospitals where the injured were taken.
"I was able to get back into the emergency room and talked to three young ladies," Cook said. "All three of them, including the that was initially listed in critical, were in very good spirits. I was thrilled to see that."
Nicole Gruszka was the lead singer on the stage when it happened. She recounted her experience to FOX59.
"Well, I was, everything was going according to plan, we got on stage, everyone was doing really well and I stepped forward because I was intending on going into the crowd which I had rehearsed previously," she said. "And I had just stepped forward onto the steps right off of the orchestra pit when I heard a crash mid-note. I looked back and the floor had fallen and everyone was in the hole. I immediately knew it wasn't a part of it because we had been rehearsing for so long. I knew the audience was confused, but I knew right away and I just didn't know what to do so I just froze."
Witnesses described the scene as chaotic as several people scrambled to help immediately after the incident.
"I think it says a lot about how our people join together when we face a tragedy," Cook said late Thursday night. "It seems to me our community responded very, very well."
"I kind of got down there. I helped one lady out, she was injured," said a student who was sitting in the first ten rows. "She had some injuries to her face, but I helped her and her dad out of the auditorium."
Robert McCombs, whose daughter was hurt in the collapse, said she suffered a broken nose, facial fractures and some cuts and lacerations.
"I hope she gets over the trauma," McCombs said. "She's very traumatized right now because this is something that she really loves to do–to sing and music is something that comes natural to her, and to have this happen–some of the first things she said in the emergency room was she's never going to perform again."
McCombs said he went down to help after the collapse and wanted to do more.
"I wish I could have stayed down in there longer to help more kids, because there were more kids who needed help," he said. "I helped some and got some children out from under the structure so I could get my daughter out from under there."
Counseling will be available for anyone who may need it.
"We would like for the students to be here in school," said Chris Baldwin with Westfield Washington Schools. "I think it's best to be here with our staff members, have that communication and and actually talk about what happened."
Principal Stacy McGuire met with students and staff Friday morning.
All students have been released from the hospital.
See video of the stage collapsing below:
So relieved there were no serious injuries, but what a scary ending! #WHSAmericanPie #Westfield pic.twitter.com/VMsRlBZLDT

— Sara Camden (@saracamden) April 24, 2015
I'm sorry if you don't like this but here is a video of what happened. I witnessed this firsthand. Prayers for every1 pic.twitter.com/NEP9sCcS0V

— Rader (@zRader_) April 24, 2015
Photo before the play:
Best seat in the house!@WHSAmericanPie
Calm before the storm pic.twitter.com/MkWdZKgrCC

— Dusty Troutman (@dustydrums) April 23, 2015
Principal of Westfield High School:
We will get through this together by taking good care of each other.We are strong & resilient. We will heal & recover.Safe travels to school

— Miss McGuire (@MissMcGuireWHS) April 24, 2015
Staff- we will meet at 7:10 on the learning center and students- I will talk with you at 7:33. The sprit of American Pie is all about family

— Miss McGuire (@MissMcGuireWHS) April 24, 2015
I'm so grateful for the 1st responders who helped us this evening-Westfield, HC &state- thank you for taking care of our kids & your service

— Miss McGuire (@MissMcGuireWHS) April 24, 2015
Please keep our students staff and families in your thoughts. Rocks are strong.

— Miss McGuire (@MissMcGuireWHS) April 24, 2015
Support will be available to any student. As information becomes available I will proves you w appropriate updates.

— Miss McGuire (@MissMcGuireWHS) April 24, 2015
Westfield Mayor Andy Cook:
Proud of our emergency responders. Proud of our community. #WestfieldStrong

— Mayor Andy Cook (@MayorCook) April 24, 2015
Thoughts and prayers are with everyone from @WHSAmericanPie tonight.

— Mayor Andy Cook (@MayorCook) April 24, 2015
Students:
https://instagram.com/p/12An0jIUk2/
I was one of the people that fell with the stage, I have no injuries. I am deeply saddened that tonight is overshadowed by this tragedy.

— Spencer (@SpencerHartford) April 24, 2015
I'm in speechless gratitude for all fellow cast members and audience that were the first to help myself & everyone else injured tonight

— Jennifer Miner (@_jenniferminer) April 24, 2015
Thank you to all that checked on me and the rest of the American Pie family. At times like these Westfield really does support one another.

— Omar (@BromarSantiago) April 24, 2015
Just got discharged with only a possible concussion. I am okay. Please keep the other students involved in your thoughts and prayers

— Taylor Knight (@tay_knightt) April 24, 2015
That was like falling in a nightmare but not waking up

— Taylor Knight (@tay_knightt) April 24, 2015
Still hurting for all of my peers and cast members. Thoughts and prayers to everyone involved, and thank you to all who helped out.

— Blake Rice (@afroguitarman) April 24, 2015