This is an archived article and the information in the article may be outdated. Please look at the time stamp on the story to see when it was last updated.
UPDATE (July 5, 2018)– Dustin Freese pleaded guilty and was sentenced to two years on probation.
Original story:
TAYLORSVILLE, Ind. – A stolen classic Chevelle is no longer missing after Columbus police tracked it down this week.
According to the Columbus Police Department, the 1968 Chevelle was reported stolen from a garage on Monday. Officers following up on a tip spotted the car on U.S. 31 near Taylorsville around 6 p.m. Wednesday.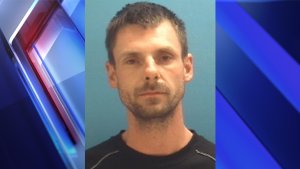 Officers conducted a "high-risk traffic stop" and took the driver, 33-year-old Dustin M. Freese, into custody.
Freese was taken to the Bartholomew County Jail on preliminary charges of possession of a stolen vehicle and operating a vehicle without ever receiving a license.
Deputies with the Bartholomew County Sheriff's Office and detectives with the Joint Narcotics Enforcement Team assisted in the recovery of the stolen car, police said.