This is an archived article and the information in the article may be outdated. Please look at the time stamp on the story to see when it was last updated.
[UPDATE 7:35 p.m.] INDIANAPOLIS (Sept. 22, 2014)– A missing trailer with 29 different guns and 20,000 rounds of ammunition has been found in the 4400 block of Ralston Avenue on the north side of Indianapolis.
Police confirm that the guns and ammunition are still missing. A neighbor called police after seeing a photo of the trailer on FOX59 news.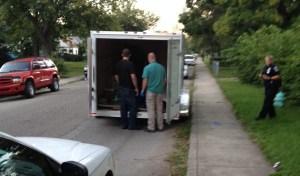 There was a lock on the trailer, but it is unclear if the lock is new or the original one. When police opened the trailer, it was empty.
The owner of Profire Arms and Supply called police Saturday morning, saying somebody had stolen a white 2014 Stealth Trailer from outside his shop at 7341 Rockville Rd.
The trailer had been loaded up and locked Friday night. The guns included M-16 rifles, AK-47s, an Uzi, and different shotgun and handgun models. Other accessories included suppressors.
According to an IMPD incident report, Profire owner Andrew Hall told officers "the ball lock on the tongue was engaged as well as a rear tire lock, and that he has the only key. There was no evidence on the scene that either had been tampered with and there were no obvious signs of tire drag marks."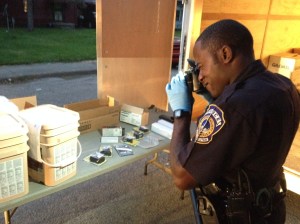 "We want to recover as many of those weapons as we can so they don't fall into the wrong hands," said IMPD Lt. Chris Bailey. "And that they aren't used to take an innocent life or the life of a police officer."
FOX59 has learned that the guns were being stored in the trailer Friday night in preparation for a Saturday "swap meet" event at Parabellum Firing Range, about five miles down Rockville Road in Avon.
"We couldn't believe it," said Tom Sellmer, owner of Parabellum Firing Rage. "That's like your worst nightmare for something like that to happen."
Sellmer doesn't have any theories on who stole the the trailer but he thinks it must have been someone who either saw Profire employees loading the trailer up on Friday or somebody who knew Profire would be storing and transporting weapons to the firing range the next day.
Whoever it was, Sellmer says, they came prepared.
"It (the trailer) was pretty secure," Sellmer said. "It was not a standard trailer hitch. It wasn't going to be an easy one for people to grab."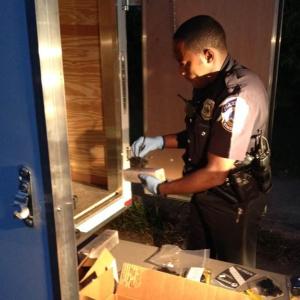 Sellmer, like police, realize the guns could be a long way from Indianapolis by now. But he hopes they will turn up before they can be used in the wrong way.
"It's scary," he said. "You don't want to see the law enforcement guys run up against it because it's some pretty powerful stuff. And it was strictly destined for enthusiasts to come down here and shoot it in a safe environment."
The Bureau of Alcohol, Tobacco, Firearms and Explosives (ATF) and the National Shooting Sports Foundation (NSSF) have announced a reward for information leading to the arrest and conviction of those responsible.
The ATF is offering a reward of up to $5,000, which will be matched by the NSSF for a total possible reward of $10,000. Anyone having information about the burglary should contact ATF at 1-800-ATF-GUNS (800-283-4867).
All calls will be kept confidential. Callers may also provide information anonymously by contacting the following offices:
ATF- Indianapolis Field Office at (317) 287-3500
Crime Stoppers at (317) 262-TIPS