This is an archived article and the information in the article may be outdated. Please look at the time stamp on the story to see when it was last updated.
WARMEST OF 2014
It took 178 days and in that span we dealt with: over 30 tornadoes, 4.5 feet of snow, bitter cold of -15° and wind chills of -40°,  but we finally reached the 70° mark Thursday afternoon.  As first foretasted last week, the official high of 74° is the warmest here since mid-October (October 13 71°).  The stretch of non 70° warmth is one of the longest on record, ties the 1937 stretch of 178 days as well.  The longest spell of non 70s – came in 1958 with 189 days.
Gusty southwest winds of over 40 mph ushered in the warmth, a wind shift to the northeast is expected around 11 pm in the city, winds will subside later tonight and overnight.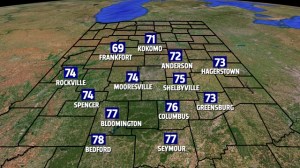 The average date of our first 70° days comes March 18th – this year is the longest wait for a 70° day since 1984.  It was April 25th, 1984 when the latest first 70 degree day was recorded for the city of Indianapolis.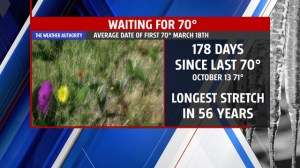 RAIN AND STORMS THURSDAY EVENING
An approaching cold front will activate showers and a few thunderstorms later in the afternoon and into the evening hours across central Indiana.  Current short-range forecast models suggest the line will form sometime before 8 PM and strengthen as it settles south.  A few storms that develop later tonight will have the potential to produce some hail and possible a few damaging wind gusts.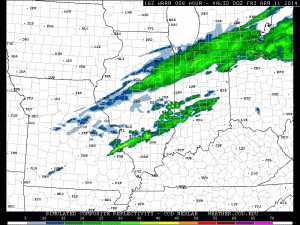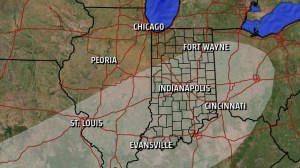 COOLER – BUT STILL MILD FRIDAY
Wind shift in the city around 11 pm Thursday night but this cold front will not end the warmth.  A cooler day coming Friday with high temperatures in the lower to mid-60s is expected with decreasing clouds.
WARMEST WEEKEND OF 2014
Temperature will surge again over the weekend in advance of a strong spring storm system.  Winds will increase and temperature will jump back into the 70s Saturday and middle 70s Sunday – warmest weekend since October 12th and 13th.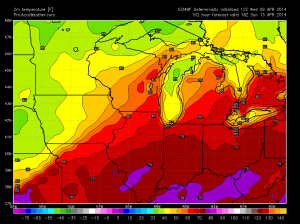 NEW COLD SURGE
A strong cold front passes late Sunday night into Monday morning bringing more rainfall and a sharp drop in temperatures.  Late season cold air spills in through the day dropping early morning temperatures in the 60s down to the 40s by the evening commute.  Lingering moisture could allow some of the rain to mix with wet snow late Monday or early Tuesday with  afternoon temperatures likely to remain just below 50° Tuesday and Wednesday