This is an archived article and the information in the article may be outdated. Please look at the time stamp on the story to see when it was last updated.
BIG EARLY MORNING RAINS
Late night storms settles south in the early morning hours Monday bringing vivid lightning and pounding rain.  Radar and ground reports of over 2" were reported from the storms.  Officially the 2 day rainfall for the city is only .38" with 1.91" reported in Lafayette and 1.52" in Muncie.  The rainfall is needed – Spring 2014 is still running 1.11" below normal.
NEW STORMS LATE NIGHT
The severe threat is north and west for now but a few storms are likely to rumble into the state later tonight and early Tuesday morning.  A line of severe storms in western Illinois is forecast to work east during the late night hours.  Some new development is possible in advance of these storms after 2 AM.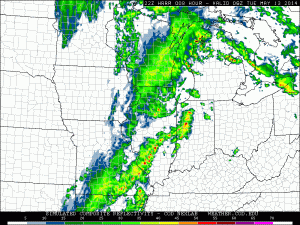 WET WEEK
Soggy week coming – rain likely each of next 7 days. 7 Day rainfall total forecast 2″ plus possible.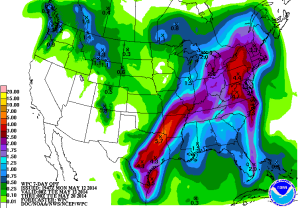 CHECKING IN ON INDIANA FARMERS
The dry start to the month has Indiana farmers working overtime!  The amount of corn planted in the last week has tripled to 60% and above the 5 year normal of 45%
SEVERE STORMS SUNDAY
Sunday's storms produced large hail, damaging winds and a tornado near Rensselaer shortly after 9pm. Most active severe weather day in Indiana this year with 20 reports. Nearly equaled all the severe reports to date this year (28).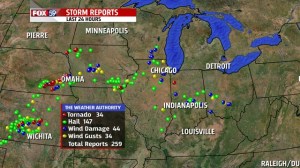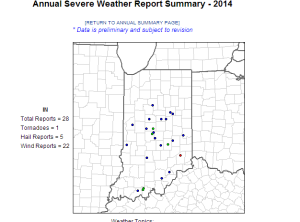 BIG COOL OFF
4 of the past 6 days have topped 80° and the streak of 7 straight days above normal is the longest since October, well that was the setup.  A big drop in temperatures is still on the way for the rest of the works week.  A closed, upper level low pressure will slow and spin overhead for a few days.  Afternoon temperatures will lower to March levels (upper 50s) Thursday and Friday along with scattered rain showers.