This is an archived article and the information in the article may be outdated. Please look at the time stamp on the story to see when it was last updated.
(Picture above taken by Maggie via Twitter in Speedway, IN)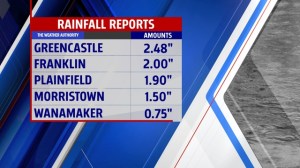 10 PM UPDATE: The areal flood warning was allowed to expire in Marion County.  Areal flood advisories continue for Decatur and Jennings County until 12:30 PM.  An  Areal Flood Advisory also continues for Hancock, Henry, Rush, and Shelby County until 11:30 PM. Check out some of our rainfall numbers so far:
Greencastle: 2.48″
Franklin: 2.00″
Plainfield: 1.90″
Morristown: 1.64″
Zionsville: 1.26″
Anderson: 1.12″
Wanamaker: .75″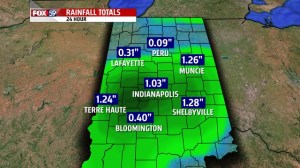 8 PM Update (EXPIRED): An areal flood warning is in place for Marion County until 10:30 PM.  Heavy rain has led to some localized flooding within the county.  If you come across a road covered with water, turn around an take a different path.  Rainfall amounts ranging from 1-2″ have been coming in across the area.  The same advice applies to the rest of the state regarding water over any of our roads.
Our afternoon and evening showers and thunderstorms produced very heavy rainfall across central Indiana. This storm activity will continue to move more to the east as the sun sets.   We are not expecting widespread severe weather but an isolated stronger storm cannot be ruled out.  Individual storms cells will be moving from southwest to northeast.
TONIGHT:
The overnight hours will be mainly dry, warm and muggy. A chance for isolated showers will continue in southeast Indiana closer to the cold front but the majority of us will have dry weather.  Lows will fall into the upper 60s tonight.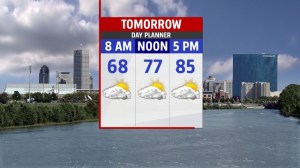 TUESDAY:
Tuesday will be partly cloudy, hot and humid with an isolated shower chance in southern Indiana.  Temperatures will climb quickly and we'll end up with afternoon highs in the mid 80s.  This will put us well above average for this time of year and you'll notice plenty of moisture in the air again.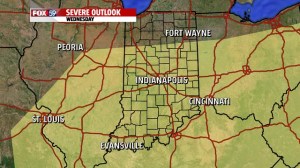 WEDNESDAY:
Strong to severe storms make a return on Wednesday.  Severe storms could pack damaging winds and isolated tornadoes.  The Storm Prediction Center and National Weather Service specifically mention the set up for a derecho here in central Indiana.  This is a long-lived damaging wind event.
A low pressure system will be tracking through the Ohio Valley Wednesday afternoon.  Showers and storms will fire up along the warm front that morning and early afternoon.  But the trailing cold front will be quickly on the heels of this morning storm activity.  That keeps showers and storms in the forecast for the afternoon and evening hours too.
The timing for stronger to severe storms on Wednesday will being in the early afternoon hours and continue through the evening.  As you see above, the SPC has us included in a "slight risk" of severe storms area wide.