This is an archived article and the information in the article may be outdated. Please look at the time stamp on the story to see when it was last updated.
Good afternoon! Warm and muggy conditions have taken over central Indiana and this is setting the stage for showers and thunderstorms again today.  Here's a look at our conditions at the noon hour.  Temperatures in Indianapolis were up to 76° with a breezy southwest wind.  Dew points are in the mid to upper 60s so that's why it feels so muggy.  We aren't looking at the direct influence of a front moving through today but storms are expected to develop due to daytime heating.  Some of this shower activity started to pop up in western Indiana as we hit noon.  These spotty, widely scattered and unorganized storms will continue throughout the afternoon hours. For more current reports and radar snapshots, check out the LIVE BLOG below the "In depth" analysis paragraph.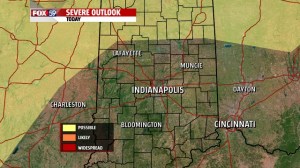 There is a slight risk of severe weather today in northern Indiana and this includes a few of our northern counties.  Although the rest of our area isn't included, you can't let down your guard because storms could still fire up locally.  We have plenty of moisture, heat and lifting going on out there to where we could see some severe storms today.  Hail and high winds will be our main concerns again today.
What's popping up on the radar right now is what we call "pulse" thunderstorms.  They pop up quickly, drop some rain and then fade.  These are moving from southwest to northeast.
IN DEPTH:
We had a weak cap across central Indiana for the first part of the day but temperatures have warmed enough for this to fade away and CAPE (Convective Available Potential Energy) is building fast.  We are already looking at 2,000 to 3,000 joules of CAPE at this hour and it will only continue to build as temperatures rise into the mid 80s.  We also have an outflow boundary left from the overnight storm activity in our northern counties.  This could be a focal point for stronger storm development. But the best atmospheric lifting happening at this time is in western Indiana, which is also where the isolated showers have started to pop at the noon hour.