This is an archived article and the information in the article may be outdated. Please look at the time stamp on the story to see when it was last updated.
INDIANAPOLIS, Ind. (Feb. 1, 2016)--Good Monday afternoon. After 60s for highs this weekend, temperatures dropped to the 40s this afternoon as a cold front moved through the area Sunday night. We started the day with patchy fog and cloud cover and we'll finish with some sunshine as dry air works its way in from the west.
Temperatures will reach the upper 40s this afternoon with light winds and more sunshine. We'll stay clear for a good part of the night until clouds move back in toward daybreak Tuesday. While a sprinkle can't be ruled out early Tuesday, the best chance of rain and even t-storms will come during the late afternoon and evening. Temperatures will start out in the mid-30s Tuesday.
Highs will reach the upper 50s and low 60s across central Indiana Tuesday afternoon as Indiana falls in the warm sector of a strong, low-pressure system. Winds will be breezy Tuesday morning and increase through the day out of the southeast with gusts to 35 and 40 mph.
Thunderstorms will develop across central Indiana ahead of a cold front Tuesday afternoon. Storms may fire up as soon as 3 p.m. out west and 4 p.m. across central Indiana. The Storm Prediction Center has Indianapolis and points south in a slight risk Tuesday. This means that there is an increased chance that this area will see severe weather.
The ingredients we look for to determine the types of severe weather show that the main threat from thunderstorms will be damaging winds (greater than 60 mph). Heavy rainfall will also be an issue as thunderstorms may produce a quick 0.50 to 1 inch of rainfall. A squall line will eventually develop as a cold front pushes toward the IL/IN border around 6:30-7 p.m. Tuesday. While the tornado threat is low, it's still possible to see one as we have a lot of shear in the atmosphere. Have a plan Tuesday afternoon as many of these storms look to be rolling through during the evening commute into the night hours.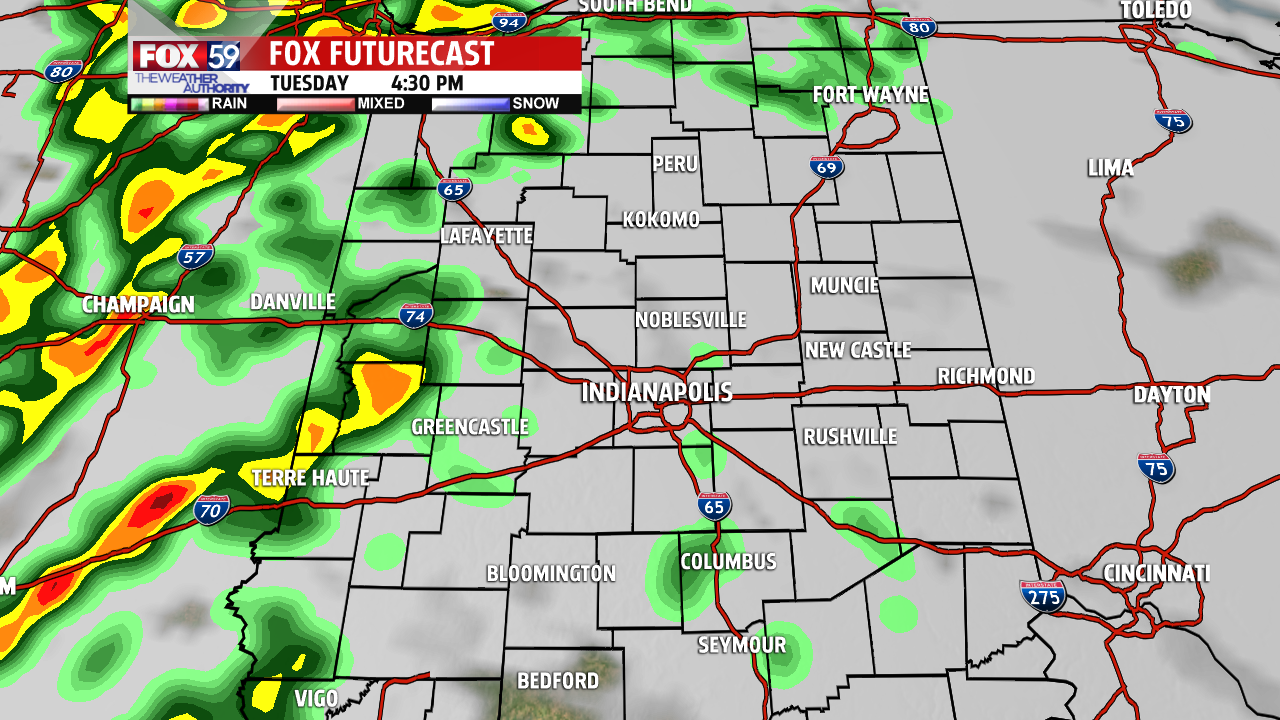 The strong low pressure will lift through the Upper Midwest and Great Lakes and eventually colder air will wrap around it into central Indiana. Expect temperatures in the upper 40s around midnight Wednesday and falling into the low 40s by daybreak. Temperatures should continue to fall Wednesday with strong west, southwest winds gusting to 30 mph. There's a chance of a rain to snow mix Wednesday afternoon.
On a lighter note---Groundhog Day is Tuesday! The legend is if Punxsutawney Phil sees his shadow then we will see six more weeks of winter. However I read that he's only right about 39 percent of the time. It will be fun to see what he says! Either way, we technically have six more weeks of winter anyway if you look at the calendar!
Temperatures will gradually rise through the end of the week and weekend with highs in the upper 40s for Super Bowl Sunday. --Danielle Dozier