This is an archived article and the information in the article may be outdated. Please look at the time stamp on the story to see when it was last updated.
INDIANAPOLIS, Ind. — Preliminary data released by the state shows that one in five babies tested at hospitals was addicted to drugs.
The data comes from a pilot program aimed at better understanding neonatal abstinence syndrome, or NAS. In 2014, the Indiana legislature formed a task force to study the issue statewide.
Four hospitals, including Community Health East, Schneck Medical Center, Hendricks Regional Health, and Columbus Regional Health, participated in the pilot.
Out of 300 babies tested, more than 20% tested positive for opiates. Smaller percentages tested positive for other drugs, too.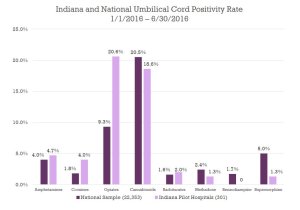 "We see it in every hospital," Community Health Network's Donetta Gee-Weiler said. "I think our state, our citizens, I think everybody would be surprised."
Gee-Weiler, the Vice President of Women's and Children's Services, said that Community had been testing already because of concerns from doctors who were seeing the problem firsthand.
"There (have) just not been enough resources to really help the patients and so getting this data will hopefully help the state see that," Gee-Weiler said.
The Indiana State Department of Health is running the program and Director of Maternal and Child Health Martha Allen said that it will be expanded to include five more hospitals in the coming months.
"It's too early to understand if this is truly the prevalence in Indiana or if there are other concerns we need to address," Allen said.
Both Allen and Gee-Weiler, though, said they believe the true numbers could be even higher.
For her part, Gee-Weiler said she hoped that the numbers would help people in the community better understand the issue and start to break down stigmas surrounding drug use and abuse, in order to tackle the problem in every Indiana city and town.
"One of the biggest points that we try to make is none of these moms want to hurt their babies and none of them want to be addicts," Gee-Weiler said.
NAS affects babies differently, in some cases with little to no symptoms and in others, with intense care needed. It occurs when babies are exposed to certain prescription drugs or other drugs while in the womb. March of Dimes provides more information on the condition at the link here.