This is an archived article and the information in the article may be outdated. Please look at the time stamp on the story to see when it was last updated.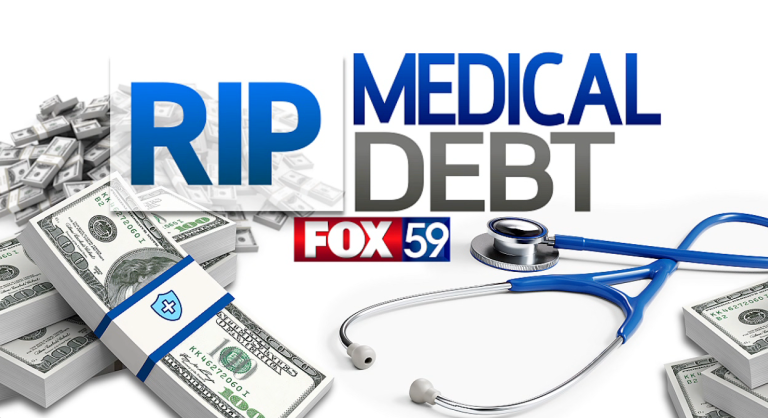 Millions of Americans face crushing medical debt every day. It's the leading cause of bankruptcy in the country — and nearly one in four Hoosiers in Central Indiana currently faces the heartache and stress of medical debt now in collections.
FOX59 News has been digging into this important story for months, meeting with families all over Central Indiana facing the burden of medical debt, and uncovering the complicated system under which medical debt can be sold to collection agencies.
The debt is often sold multiple times and for pennies on the dollar, but the balance owed can grow at 12% interest. Under that scenario the debt almost doubles in just six years, which forces some people into extreme hardship.
That's why FOX59 News is teaming up with a national not-for-profit agency to erase medical debt for hundreds of central Indiana viewers.
HOW IS FOX59 ERASING PEOPLE'S MEDICAL DEBT?
In cooperation with RIP Medical Debt, a New York-based company that works with philanthropists and organizations to provide financial relief for people burdened by unpaid and un-payable medical bills, FOX59 was able to purchase nearly $1.5 million of medical debt for $15,000.
That purchase will wipe clean the debt of roughly 1,000 viewers in the region. Those individuals — whose identities remain anonymous to FOX 59 News — will receive a letter in the mail this week informing them that their debt has been paid.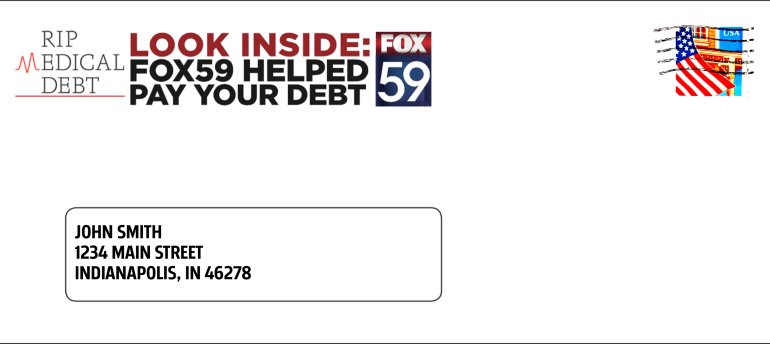 "Every day we tell the stories that affect our viewers and when we can find a way to change the lives of the people we serve, it is a privilege," said FOX59 General Manager Jamie Aitken.
"FOX59's commitment to helping the most vulnerable in our communities is an inspiration," added RIP Medical Debt co-founders Craig Antico and Jerry Ashton. "Our goal is to abolish $1 billion of medical debt in 2018, and we're incredibly proud to have FOX59 in Indianapolis as partners in helping us make this happen for Central Indiana."
PAY IT FORWARD: HOW YOU CAN HELP ERASE SOMEONE'S DEBT RIGHT NOW
A small donation can help remove thousands of dollars of medical debt for a person in need.
So what can you do? The same thing we did. Make a donation to RIP Medical Debt to help forgive even more medical debt within our community!
CLICK HERE for a donation form provided by RIP Medical Debt — which is the organization collecting the donations, identifying those in need, and forgiving the debt. Your money goes directly to the charity, not our station.
FOX59 News is not collecting or receiving any of the information provided in the donation form. The information entered into the form goes directly to the charity.
FREQUENTLY ASKED QUESTIONS AND RESOURCES about MEDICAL DEBT and FOX59's effort to help Hoosiers.