This is an archived article and the information in the article may be outdated. Please look at the time stamp on the story to see when it was last updated.
Sunny start this morning and temperatures not bad either!  This will be the nicest start all week because colder, wetter times are ahead…
In fact, by this time tomorrow morning a Frost Advisory (which means widespread temperatures of 33 to 36 degrees are expected during the growing season) will be in effect from 4 AM to 9 AM.  The darker color on the map above for northern Indiana marks a Freeze Watch, which means, widespread temperatures are expected below freezing during the growing season!
Here is a look for your day planner: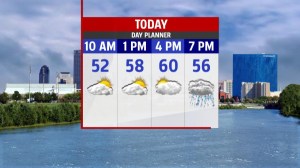 Tracking clouds and rain north…most of this not arriving to the city until 4 pm this afternoon…best rain chances happening during the evening rush hour.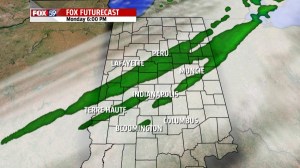 Colder air on the way with flurries mixing with pockets of drizzle by Wednesday morning and again Thursday morning…no accumulations for Indianapolis but certainly a sign that winter is not that far off!  Here is your extended forecast…