This is an archived article and the information in the article may be outdated. Please look at the time stamp on the story to see when it was last updated.
CLOUDS BRING A WARMER NIGHT
Overcast skies will remain across central Indiana late Thursday night through Friday morning and that means warmer night!  Well at least on the thermometer.  A brisk southwest wind has pushed temps up 12° to 17° warmer than last night at the same time.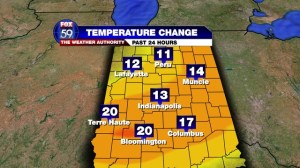 That same wind is also producing a wind chill in the middle teens as well.  After two nights with single digits lows away from the city, tonight the low will only dip into the upper teens.
SUNNY FRIDAY
Skies clear around daybreak Friday morning and a sunny afternoon is expected.  This may be the last of sunny weather for quite some time.  A new system arrives Saturday with a chance of snow late.  Cloudy weather is likely for most of next week.
SOME SNOW SATURDAY
While early there are hints that an upper level low will swing across the state bringing a period of wet snow late Saturday evening into Saturday night.  Should current forecast trends hold, an area of 1″ to possible 2″ of snow may fall from eastern Illinois northeast to Ft. Wayne.  Areas just northwest of the city would likely see the sticking snow.  We will firm up snow amounts and location later Friday evening.