This is an archived article and the information in the article may be outdated. Please look at the time stamp on the story to see when it was last updated.
A Waynesville quadruple murder suspect is being held in safe keeping, the Bartholomew County Sheriff's Office announced Monday.
Sam Sallee is being held in connection with the May 2013 incident. He is the sole person believed to be responsible for the killing of four Waynesville residents.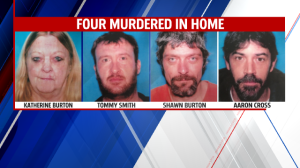 Kathy Burton, Thomas Smith, Aaron Cross and Shawn Burton were all shot in the head. The county coroner described the crime as a very violent and brutal attack.
Kathy Burton suffered multiple stab wounds in addition to the gunshot wound.
Investigators believe the killings are "drug-related". Officials said found methamphetamine inside the home.
Bartholomew County Coroner Larry Fisher told Fox59 that Sallee is the only person believed to be responsible for the murders and that he is currently in a "secure environment." He would not say where that location is, but emphasized that it does not mean Sallee has been arrested for these crimes yet.
"He is not a threat to the public in any way, shape, or form," assured Fisher. "I think we have made sure that we have all of our i's dotted, t's crossed, and that we can bring this thing to a closure pretty soon."
Fisher added that all of the evidence collected against Sallee is already in front of the County's Prosecutor and the Sheriff's Department is now awaiting formal charges which could be filed this week.