This is an archived article and the information in the article may be outdated. Please look at the time stamp on the story to see when it was last updated.
INDIANAPOLIS, Ind.— Police say a suspect barricaded inside an apartment on the northeast side fired at officers serving a warrant. The suspect has been connected to a Zionsville man's murder and recent shootings at two different IMPD headquarters.
A SWAT standoff took place Monday afternoon at the Peppermill Farms apartment complex, near Shadeland Avenue and East 42nd Street on the city's northeast side.
Police say a 7-month-old child was in the apartment where officers are serving the warrant, and a person inside the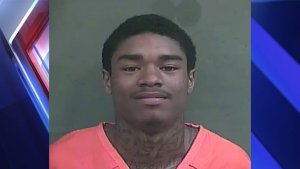 apartment fired shots at police. Police did not fire any shots due to the child involved in the situation.
The child was uninjured and transferred to Riley Hospital for Children at IU Health to be checked out.
During a media briefing around 4 p.m., police said they were fired upon a second time by the suspect. Around 4:30 p.m., police said the suspect surrendered peacefully. No injuries were reported.
Neighbors were terrified.
"I was scared for my kids, and I didn't know what was going to happen," said Krystal Thompson, who lives next door to Wilcoxson's apartment, "I was thinking, oh God, is he going to bust through my door."
Thompson grabbed her two children and hit the floor, terrified. SWAT officers eventually pulled all three out through a window to safety.
After the SWAT situation ended, Zionsville police announced an arrest in a murder of a 82-year-old man that occurred last month. The suspect, identified as Damoine Wilcoxson, is said to be the suspect from this standoff.
Wilcoxson is also connected to two recent incidents of shots fired at IMPD police stations.
His relatives denied his involvement in any crimes.
"He's not no bad kid. I got a good nephew. He ain't bad," said Detra Boyd, the suspect's aunt, "That's the first I even heard of it right here, but I can't look at him as being that type of kid, shooting up no police station, I can't."
On Tuesday, Oct. 4, IMPD's northwest district near West 38th Street and Guion Road was shot up. Luckily, no injuries were reported.
The bullets flew around 11 p.m., hitting the building and three cars.
Nine days later, shots were fired at IMPD's north district, between North Keystone Avenue and North Sherman Drive. The incident occurred around 11 p.m. on Oct. 13.
Two officers were inside the building completing reports at the time of the shooting. No one was injured.
Court papers filed in Boone County said investigators connected Wilcoxson to the police station attacks and the Zionsville murder by comparing shell casings. DNA was reportedly left on a shell casing as well as a threatening note left at one of the station shooting scenes.
Investigators are trying to determine if the barricaded gunman is related to a number of unsolved shootings in the metro area.
Indianapolis Mayor Joe Hogsett issued this statement:
"This afternoon's events remind us all of the incredible dangers the men and women of the Indianapolis Metropolitan Police Department face while protecting this city. Confronted with peril, these officers acted with bravery and professionalism and I applaud their commitment to ensuring the safety of those involved.

"In addition, I commend the investigative work of IMPD, as well as our state and federal partners, who helped to identify and apprehend this suspect. Indianapolis will not tolerate reckless acts of violence, and we remain steadfast in our resolve to keep law enforcement officers and this community safe."
Video from a previous FOX59 story: