This is an archived article and the information in the article may be outdated. Please look at the time stamp on the story to see when it was last updated.
(November 17, 2015) – A Kosciusko County man says winning $7 million from the Hoosier Lottery brings "a lot of opportunity."
Arlen Brennaman of Syracuse scratched the ticket, $7 Million Mega Cash, in the passenger seat of his brother's car as the two headed back to work in Goshen. They had just left the Chalet Party Shoppe where Brennaman had unknowingly just written himself into the Hoosier Lottery record books. The 30-something man found himself holding a $7 million winning ticket.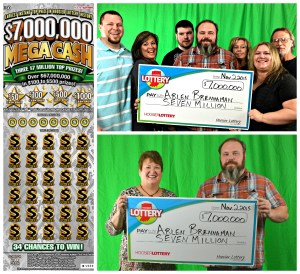 He had just won the largest prize ever offered on a scratch-off in Indiana.
Brennaman's main goal is to turn the money into a legacy that makes life better for his whole family. He sees winning as an opportunity for his family to go into business for themselves and invest in a way that turns the initial windfall into something sustainable beyond their next generation.
"There's no reason we can't all live comfortably," said Brennaman. As the winner of the biggest scratch-off prize in the history of the Hoosier Lottery, Brennaman finds himself in a position to make it happen.
Two more $7 million top prizes are unclaimed on the $7 Million Mega Cash game at this time. There are also five prizes of $250,000 and more than 75 prizes of $25,000 unclaimed at this time.
ABOUT THE HOOSIER LOTTERY: Hoosier Lottery distributions benefit every county throughout Indiana. The Hoosier Lottery contributes $30 million to local police and firefighters' pensions and $30 million to the Teachers' Retirement Fund. In fiscal year 2013, the Hoosier Lottery contributed $164.5 million to the Build Indiana Fund.