This is an archived article and the information in the article may be outdated. Please look at the time stamp on the story to see when it was last updated.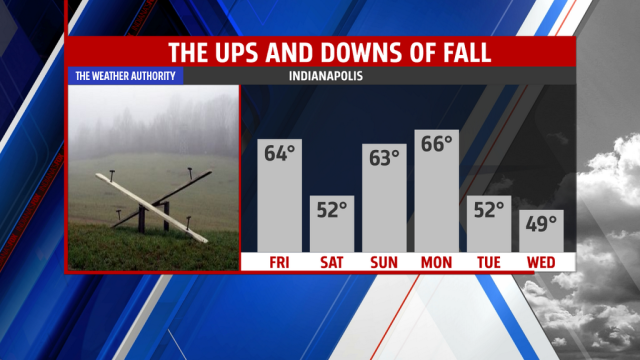 Seesaw temperatures expected over the next 7 days with highs on some days hitting the mid-60s and other day's highs likely not hitting 50 degrees.  While we will see a series of fronts sliding through the area we don't expect to see a lot of rain due to an overall lack of moisture.
Friday will start off with some sun.  There may be some haze in some areas but winds should keep it under control.  Sunny skies will give way to plenty of clouds by the mid-afternoon.  We should see a turn to overcast skies just before the sun sets tonight.
Your weekend gets off to a rainy start with light rain showers expected in the morning to possibly early afternoon.  Cloudy skies for most of the day will only allow a high in the low 50s.  Sunday's weather will be perfect for getting out and about.  If you have yard work to do I'd hold off until Sunday to do it.  Sunday highs will hit the low 60s and there should be plenty of sunshine.
The seesaw we mentioned above really gets going next week with Monday seeing a high of 66 degrees.  Monday will likely be the warmest day of the week.  There will be a small chance for rain Monday night.  Tuesday will be cooler with highs just in the low 50s.  Wednesday we may not reach 50 with us forecasting a high of 49.  Thursday will also be cooler with us potentially seeing our first freeze of the year that morning.  If you're wondering the average date for the first freeze of the year for Indianapolis is the 16th.  Going into the week we still have not seen our first frost of the year.