This is an archived article and the information in the article may be outdated. Please look at the time stamp on the story to see when it was last updated.
BLOOMINGTON, Ind. (October 23, 2015)-- The mother of the 19-year-old former Indiana University student at the center of a federal hate crimes investigation is defending her son.
Triceten Bickford is accused of attacking a Muslim woman in Bloomington and allegedly shouted "white power" and "kill them all." The victim was sitting outside the café with her 9-year-old daughter.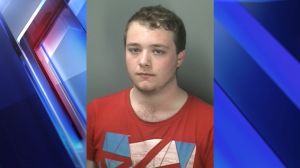 Bickford was scheduled to make his initial appearance in court Friday, but that was changed.
The initial court appearance was waived because his attorney says those accused of felonies are automatically given a not guilty verdict and it is common for the hearing to be waived.
Instead of the going to the courtroom today, Bickford's mother decided to speak with FOX59 about her son.
Juilie Frazier insists this was not a hate crime, but says her son was very drunk and was not aware of his action at the café.
Frazier says that was not something her son would do.
"I want people to know that this is not my son. He is not this kind of person. He does not hate people. He has worked in the past to speak out for people of color for people of other ethnicities," said Fraizer.
Frazier says Bickford is mortified over this and they are both very sorry and glad there were no further injuries.
Bickford was an IU student at the time of the incident, but on Tuesday he was expelled as a result of the arrest.
The FBI says they are investigating on whether the woman's civil rights were violated.
Bickford faces seven charges including felony battery.