This is an archived article and the information in the article may be outdated. Please look at the time stamp on the story to see when it was last updated.
UPDATE 9:05 a.m.: Dayna Pidhoresky is the female winner with a time of 1:12:45.
UPDATE 8:45 a.m.: Daniel Mesfun from Flagstaff has won the with a time of 1:03:27.
INDIANAPOLIS, Ind. — It's Mini Marathon day!
Around 30,000 runners, joggers, walkers and wheelchair racers will take part in one of the country's largest half marathons.
Wheelchair participants will kick off festivities at 7 a.m. A post race party will take place at Military Park until 2 p.m.
You can see a map of the course here. The following roads will be closed during the Mini Marathon: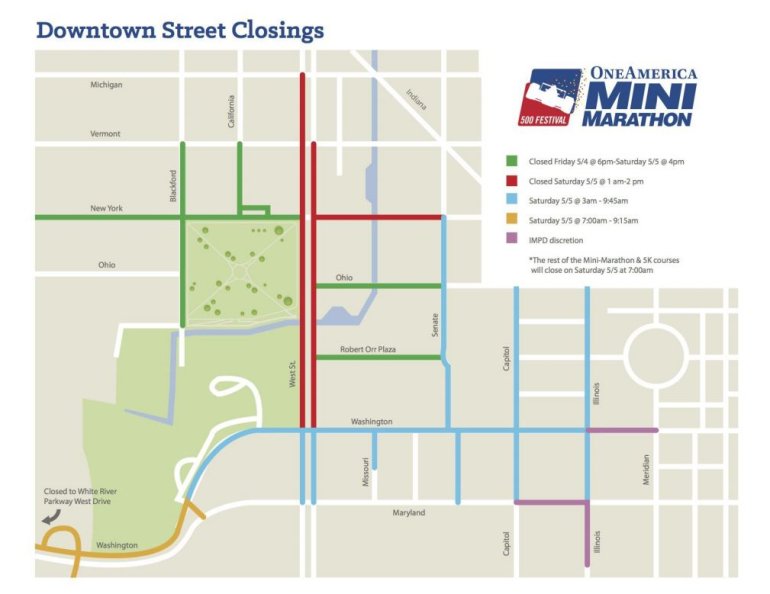 Noted celebrity participants this year include former Colts coach Tony Dungy, local runner and Olympic athlete Andrew Peterson, Olympian Alexi Pappas and "the greatest runner of our generation," Meb Keflezighi. Members of the USS Indiana will serve as the offical pacesetters of the race.
13.1. 🏁 #IndyMini pic.twitter.com/MolRva8ur6

— 500 Festival (@500Festival) May 5, 2018
It's on! #indymini @AlexaGreenNews @FOX59 pic.twitter.com/LOPHyS8Kpk

— Zach Myers (@ZachMyersNews) May 5, 2018
A sea of runners getting ready for the start of the @500festival 5K! It kicks off at 7AM #indymini pic.twitter.com/8Ug7Ps76w2

— Alexa Green (@AlexaGreenNews) May 5, 2018
And they're off!!! #indymini pic.twitter.com/OEDLyaqWAv

— Alexa Green (@AlexaGreenNews) May 5, 2018
More than 30,000 runners will be running in today's @500festival #indymini. Race begins in less than 15 minutes! pic.twitter.com/YEOmHkquKP

— Alexa Green (@AlexaGreenNews) May 5, 2018
RUNNERS, are you ready!? #indymini @500festival pic.twitter.com/sXTYSiDWa7

— Alexa Green (@AlexaGreenNews) May 5, 2018
This is Linda Chambers. She's running the #IndyMini for fallen Deputy Pickett. She's carrying this flag for the entire 13.1 miles. She'll be giving it to Deputy Pickett's sister at the finish line. 💙 #WhyIMini #ThinBlueLine pic.twitter.com/jXzqIg4ebJ

— Lindsey Eaton (@LindseyEatoNews) May 5, 2018
It's a beautiful morning for the #IndyMini — participants will tour 13.1 miles of our city's westside before heading back downtown to cross the finish line. 🏁 pic.twitter.com/WQxp0KpqdQ

— Mayor Joe Hogsett (@IndyMayorJoe) May 5, 2018
Fantastic start for the @OneAmerica #IndyMini Good luck to all the participants! Ladder 84 & Ladder 71 flying the 🇺🇸 high and proud! @Decaturtwpfire pic.twitter.com/evuRLUEhq4

— Wayne Twp Fire Dept (@Waynetwpfire) May 5, 2018
Good luck 👍🏽 to all the runners at today's #indymini🏃🏽‍♂️🏃‍♀️🚶🏽‍♂️. Just know @IMPDnews @IFD_NEWS @MCSO_IN and @IndianapolisEMS are all keeping a watchful eye on today's events to ensure your saftey. 🚓🚒🚑@500Festival #MonthOfMay😎🏎

— Chief Randal Taylor (@IMPD_Chief) May 5, 2018
Mile one @FOX59 pic.twitter.com/JHor65qSfN

— Zach Myers (@ZachMyersNews) May 5, 2018
#WhyIMini? For that #IndyMini medal at the finish line! pic.twitter.com/NmBwbyneJu

— OneAmerica (@OneAmerica) May 5, 2018
5K finisher @TonyDungy! #IndyMini pic.twitter.com/Xu30RTDe9f

— 500 Festival (@500Festival) May 5, 2018
First #IndyMini wheelchair participant has crossed the finish line! #WhyIMini pic.twitter.com/Mz9gGkwwpB

— OneAmerica (@OneAmerica) May 5, 2018
Congrats to our 5K winners! #IndyMini pic.twitter.com/2CGUnDRqUj

— 500 Festival (@500Festival) May 5, 2018
Rocking into mile four @fox59 pic.twitter.com/9905RHVsvh

— Zach Myers (@ZachMyersNews) May 5, 2018
Daniel Mesfun from Flagstaff, Arizona is your winner of the 2018 @OneAmerica 500 Festival Mini-Marathon! #IndyMini pic.twitter.com/GhHS87peot

— 500 Festival (@500Festival) May 5, 2018
5 miles down, into mile six. Heading toward the speedway !! @fox59 pic.twitter.com/wKXM6i6qGK

— Zach Myers (@ZachMyersNews) May 5, 2018
Congratulations #IndyMini winner Daniel Mesfun who completed in 1:03:27!!! pic.twitter.com/5O1KBaElFa

— Alexa Green (@AlexaGreenNews) May 5, 2018
And we have our first female finisher! #indymini pic.twitter.com/DKsA4Aqlf9

— Alexa Green (@AlexaGreenNews) May 5, 2018
Congrats to #IndyMini women's winner, Dayna Pidhoresky! #WhyIMini pic.twitter.com/TQ5TvpD0TI

— OneAmerica (@OneAmerica) May 5, 2018
5 miles down, into mile six. Heading toward the speedway !! @fox59 pic.twitter.com/wKXM6i6qGK

— Zach Myers (@ZachMyersNews) May 5, 2018
Into the speedway @fox59 pic.twitter.com/uD6Eg4GkVT

— Zach Myers (@ZachMyersNews) May 5, 2018
Many more #indymini runners crossing the finish the line! Congratulations all! pic.twitter.com/CwfKT7NROD

— Alexa Green (@AlexaGreenNews) May 5, 2018
Awesome ways to honor fallen heroes. @FOX59 pic.twitter.com/hEb6HbaAbg

— Zach Myers (@ZachMyersNews) May 5, 2018
Your women's #IndyMini winner with a time of 1:12:45 is Dayna Pidhoresky! She got to chat with @runmeb & @AlexiPappas after the win! pic.twitter.com/6yWxhuUPol

— 500 Festival (@500Festival) May 5, 2018
#IndyMini participant Carlos Heras conquered 13.1 miles, and the rest of his life. Congrats to the happy couple! 💍 pic.twitter.com/tn1i0CDY4P

— 500 Festival (@500Festival) May 5, 2018
Kiss the bricks ✅
Take a selfie with @Kyle_Inskeep ✅#IndyMini pic.twitter.com/L4iLNc8ue2

— Lindsey Eaton (@LindseyEatoNews) May 5, 2018
https://twitter.com/MattOverton_LS/status/992752775045042176/video/1