This is an archived article and the information in the article may be outdated. Please look at the time stamp on the story to see when it was last updated.
PUTNAM COUNTY, Ind.—Three people were hospitalized after a dog ran onto the interstate, causing a multi-vehicle crash.
At approximately 8 p.m. on Saturday, Indiana State Police and Putnam County emergency agencies responded to a multi-vehicle crash in the eastbound lanes of Interstate 70 near the 46 mile marker.
Police say a semi driven by Harpeet Singh, age 25 of Canada, began to slow down after seeing a dog in the roadway and people trying to chase the animal.
As Singh slowed, he was struck in the rear by another semi driven by Saidul Islam, age 32 of Michigan. In between the two semis was a Hyundai Sonata driven by Anthony Bailey, age 55 of Avon.
Bailey saw in his mirror that semi driven by Islam was not going to stop, so Bailey attempted to drive right onto the emergency shoulder. In doing so, Bailey was still struck by the semi and forced off the roadway, ultimately rolling over multiple times.
Bailey was removed from the car with the help of emergency responders at the scene.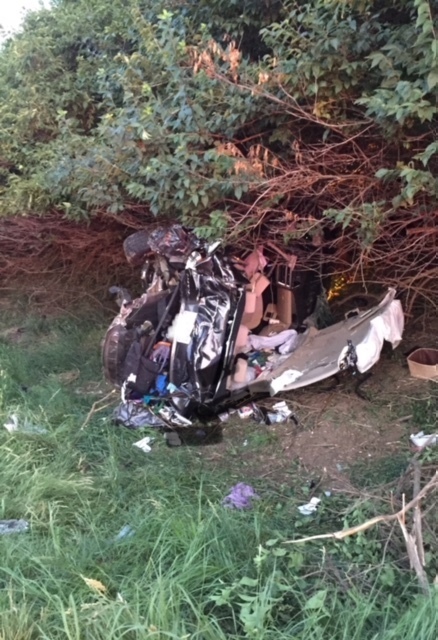 Early indications are the dog was a stray that had wandered onto the roadway.
Bailey and his passenger, 56-year-old Patricia Bailey, were both transported to Methodist Hospital in Indianapolis—Anthony for minor injuries and Patricia for possible fractures.
Islam was airlifted to St. Vincent's Hospital in Indianapolis for fractures and facial lacerations. Police say Islam may have been distracted by interior panel warning indicator lights of possible mechanical issues.
Eastbound traffic was diverted onto US 231 with both lanes reopened at approximately 12:40 a.m.