This is an archived article and the information in the article may be outdated. Please look at the time stamp on the story to see when it was last updated.
DELPHI, Ind. – The homicide case involving two Delphi teenagers has left the Carroll County community on edge as police search for a killer.
The investigation into the disappearance of 14-year-old Liberty German and 13-year-old Abigail Williams began around 5:30 p.m. on Monday, Feb. 13, when family members reported them missing.
A tip line has been set up for any information related to this case. All tipsters should call 844-459-5786. Information provided will be taken and followed up on by officers working the case. Tips can be submitted anonymously.
Here's a timeline of the case as it has developed so far:
Monday, Feb. 13, 2017
1 p.m. A family member drops off the girls at a trail near Monon High Bridge, an abandoned railroad bridge over Deer Creek.
5:30 p.m. The girls fail to show up at a predetermined location to be picked up by a family member. They're reported missing.
Monday night: A large search effort involving volunteers and multiple law enforcement agencies gets underway. They scour the area in an attempt to find Liberty and Abigail. The search is called off due to darkness.
12 a.m. Carroll County Sheriff Tobe Leazenby says in a news release that there is no reason to suspect foul play or to believe the girls are in immediate danger. The biggest concern is exposure to the elements.
Tuesday, Feb. 14, 2017 
Tuesday morning: The search resumes with teams of volunteers and police officers. The effort also includes K-9 units and dive teams.
Noon: Searchers find two bodies about a half-mile away from the bridge.
2 p.m. During a news conference, authorities announce the discovery of the bodies but give no indication of their identities. They say for the first time that "foul play" is suspected in connection with the case.
4 p.m. Delphi Community Schools Superintendent Gregory Briles releases a statement saying that the bodies found in the afternoon are those of two "missing Delphi Community Middle School students" despite no confirmation from police.
Briles says grief counselors will be made available to students and staff. Briles later says school security will be stepped up. All after school activities at Delphi Community Middle School are canceled for the remainder of the week.
7 p.m. The Delphi United Methodist Church opens for a vigil.
Wednesday, Feb. 15, 2017
8 a.m. Autopsies are conducted in Terre Haute on the bodies discovered during Tuesday's search. Local authorities convene a meeting after the autopsies are complete.
10 a.m. Sgt. Kim Riley with Indiana State Police provides a brief update on the investigation. He says the autopsies are complete but declines to confirm the identities or discuss a suspect or person of interest in the case. He says police have received "hundreds of tips" from the community.
Riley advises parents to keep a close eye on their children and monitor their whereabouts.
3 p.m. Indiana State Police and the Carroll County Sheriff's Department hold a news conference confirming that the bodies found Tuesday are those of Liberty and Abigail. They say the case is being investigated as a double homicide.
They say they don't believe there's any immediate danger to the community.
7 p.m. Indiana State Police release a photo of a man reportedly walking on the trail around the time of the girls' disappearance. Police say they want to talk to the individual but stop short of calling him a suspect.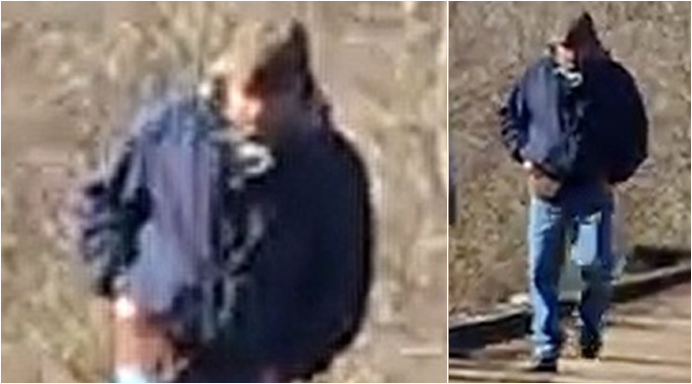 Thursday, Feb. 16, 2017
6 p.m. Police set up a tip line for anyone with information in the case to call: 844-459-5786. They say they've had upwards of 250 tips so far.
6:45 p.m. Funeral arrangements set for 14-year-old Liberty "Libby" German.
7:45 p.m. Indiana State Police serve a search warrant in connection with the case at a home in Delphi. No arrests were made.
Saturday, Feb. 18, 2017
4 p.m. A public visitation for the girls is held at Delphi Community High School.
Sunday, Feb. 19, 2017
12:30 p.m. Indiana State Police say the man photographed walking along trail around the time the girls' disappearance is a suspect in their deaths.
Monday, Feb. 20, 2017
Police say they're conducting a statewide manhunt for the man seen in the photo and tell Hoosiers to continue to provide information via the hotline set up for tips in the case.
Carroll County Prosecutor Robert T. Ives cautions Delphi residents not to "harass, bother or accuse anyone," especially those who live at a home that was the subject of a search warrant last week.
Tuesday, Feb. 21, 2017
An official says the teens' deaths could lead to security changes along the Monon High Bridge Trail. The changes could include the addition of security cameras.
Wednesday, Feb. 22, 2017
10 a.m. Investigators hold a news conference to update status of investigation. Police reveal that Liberty German recorded video and audio of the suspect on her cell phone. ISP releases an audio recording of a man's voice saying, "Down the hill."
Authorities announce a $41,000 reward for information leading to an arrest in the teens' killings.
Thursday, Feb. 23, 2017
12:45 p.m. Indiana State Police say they've received 3,900 tips in the case, with 1,900 of them coming after the release of the audio recording. A $9,000 donation from the office of U.S. Rep. Todd Rokita pushes the reward amount to $50,000.
4 p.m. Indiana State Police announce that the FBI has taken over the hotline for tips in the case.
Monday, Feb. 27, 2017
Police say they've received close to 10,000 tips in the case. The reward surges to nearly $100,000.
Tuesday, Feb. 28, 2017
Despite rumors to the contrary, Indiana State Police say they haven't made any arrests in connection with the deaths of Liberty German and Abigail Williams. Police ask the public not to jump to conclusions or spread rumors on social media.
Wednesday, March 1, 2017
7:18 a.m. Retired Indianapolis Colts punter Pat McAfee and Jim Irsay announce $97,000 donation to bring reward to $200,000.
6 p.m. Grandparents of Abby Williams leave emotional note at police headquarters that expresses their gratitude for those investigating the case.
Thursday, March 1, 2017
Lowe's Lafayette donated 1,000 orange light bulbs so residents can "Light Up Delphi" and install the orange light bulbs in their porch lamps as a tribute to Abby Williams and Liberty German.
Tuesday, March 7, 2017
Papa John's franchisee holds pizza fundraiser at Delphi Community Middle School to raise money for the reward fund.
Wednesday, March 8, 2017
Officials announce formation of task force to explore safety options along Delphi's trails.
Investigators say they're working with the FBI to build a profile of the suspect.
Thursday, March 9, 2017
10 a.m. Mike Patty, Liberty German's grandfather, speaks to media for first time since deaths of Libby and Abby. He thanks community for outpouring of support and says he believes tips will help solve the case.
Sgt. John Perrine from Indiana State Police says the case is "emotional for all of us" in reference to investigators. He reveals the reward has surpassed $224,000 and said police have received more than 11,000 tips.
Monday, March 13, 2017
Trail Safety Task Force meets to discuss security gaps along Delphi's trail system and make recommendations for potential changes.
Friday, March 17, 2017
12 p.m. Indiana State Police, the FBI and Carroll County sheriff's deputies serve search warrant at home and property of Ron Logan, who owns the property where the bodies of Abby and Libby were found in February. Logan was taken into custody earlier this week on unrelated charges.
Friday, March 24, 2017
Authorities announce that the investigation into the teens' deaths will begin to look a little different in the coming weeks as they begin the "normalization" process in the investigation.
Thursday, April 27, 2017
The victims' families announced plans to build a sports complex with several softball fields in honor of the girls. A fundraising event will be held on July 15.
Saturday, July 15, 2017
The first memorial softball tournament in honor of the teens is held. Proceeds from the tournament are going toward a new sports complex in their honor.
Monday, July 17, 2017
Indiana State Police released a sketch of the murder suspect.
Wednesday, September 27, 2017
Daniel Nations was arrested in Colorado for having expired Indiana license plates and police say he could be linked to the Delphi murders.
Thursday, September 28, 2017
Police call Daniel Nations a person of interest in the Delphi murders investigation.
Friday, September 29, 2017
Police confirm two detectives were sent to Colorado to interview Nations. Authorities also confirm he was living homeless in Indiana at the time of the murders.
Wednesday, October 11, 2017
Daniel Nations' wife speaks out and says her husband resembles the police sketch of the suspect, but not the man in the photo.
Monday, January 8, 2018
Indiana State Police and the Carroll County Sheriff's Department announce the base of operations for the investigation is moving back to its original location in City Hall as the larger space at the REMC building was no longer needed.
Monday, January 15, 2018
The Bledsoe County Sheriff's Department in Tennessee posts a statement to their Facebook page saying the search for the Delphi suspect has extended into southern Tennessee counties. They later clarified the post to say the suspect has not been seen in any Tennessee counties and the search is in fact nationwide.
Sunday, February 4, 2018
Daniel Nations returns to Indiana on an unrelated warrant out of Johnson County for failing to register as a sex offender. He went to court the following day.
Thursday, February 8, 2018
Abby and Libby's families plan a candlelight vigil on the one-year anniversary of the investigation.
Monday, April 22, 2019
Indiana State Police release new information in the case, including a revised suspect sketch. The sketch shows a man who appears younger than the person seen in a sketch released earlier. Police believe he's between the ages of 18 and 40 and may look younger than his true age.
State police also released additional video and audio taken from Libby German's phone. Police believe the killer lives or works in Delphi and visits the area frequently. ISP Superintendent Doug Carter even suggested that police may have interviewed the individual in the course of their investigation.