This is an archived article and the information in the article may be outdated. Please look at the time stamp on the story to see when it was last updated.
Central Indiana started the day with some isolated showers and thunderstorms.  The bulk of the morning activity happened in our northern counties along the warm front boundary.  We will see 2 main windows for showers and thunderstorms today and we are in the "slight risk" area of severe weather.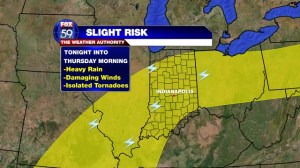 It looks like our main focus for storms this morning will be in our northern counties along that warm front boundary.  From the metro and to the south, the atmosphere will remain capped for quite a while.  What this means is that the atmosphere can't lift and storms can't form. But when that cap finally erodes, we will see storms quickly developing early this afternoon and this evening.   Fox Futurecast shows this type of activity at 4 PM but scattered storms will start as early as the lunch hour.  As of 12:45 PM, the cap had eroded and storms were already starting in Central Indiana.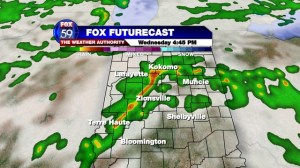 CAPE values from Lafayette to Muncie and to the south should increase to 1000-2500 joules this afternoon.  This along with a strong West-Southwest flow aloft would result in some strong storm clusters.  So any storm activity this afternoon and this evening will be is smaller clusters, not large squall lines that cover the state.  Storm clusters can clump together and look more linear at times but they are not associated with the cold front.  These storms will bring in the threat for damaging winds and large hail.  Heavy downpours and frequent lightning will also accompany these storms.  Fox Futurecast continues to indicate on going storms through 6-8 PM today.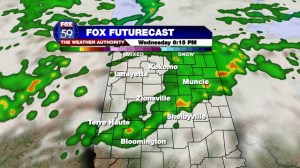 Now let's talk about later tonight and into Thursday morning.  A more defined area of showers and thunderstorms will develop late this evening in Illinois ahead of the cold front boundary.  This is going to be the line of stronger storms and much heavier rainfall.  This line of storms should approach the Illinois/Indiana state line after 11 PM and continue to move through the state through 6 AM.  So the bulk of our heaviest rain will happen overnight when most of you are sleeping.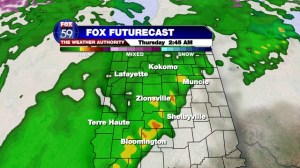 This squall line will have its fair share of severe weather threats.  The biggest threat tonight will be damaging wind gusts imbedded in the line of thunderstorms.  Overall, we have a 15% chance of damaging winds overnight.  This line of storms will also produce heavy rainfall.  Most of the models bring in 1-2″ of rainfall overnight and up through Thursday afternoon.  There will also be a 15% chance of large hail out of these storms.  The final threat that needs to be discussed is the tornado threat.  The best threat of the day for tornadoes is actually down in northern Louisiana and southeastern Missouri.  But even there, it's a 5% chance. Here locally, there is a 2% chance of a tornado forming in this line of thunderstorms overnight. Typically with long squall lines like what we'll see tonight, bowing segments will form where the winds are a bit stronger and faster.  It's in those same bowing segments that short spin-ups can occur and a brief tornado can form.  But the step up tonight is not supportive of large, long track tornadoes.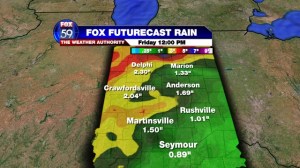 We will continue to see the chance for showers and thunderstorms through early Thursday afternoon.  Any activity after that will just be light showers into Thursday night.   Much colder air will also arrive for Friday and Saturday with highs near or below 50°F.