This is an archived article and the information in the article may be outdated. Please look at the time stamp on the story to see when it was last updated.
CLINTON COUNTY, Ind. — A man and woman from Kokomo have been arrested on drug charges after a deputy noticed the smell of marijuana coming from their vehicle during a traffic stop, according to the Clinton County Sheriff's Office.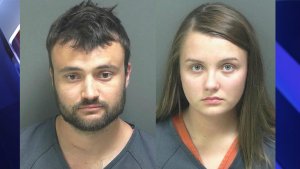 Just before 2 p.m. Saturday, a deputy stopped a vehicle for a traffic violation on State Road 26, near County Road 200 East in Clinton County.
As he approached the vehicle, the deputy noticed the odor of marijuana coming from inside. A search of the vehicle produced vape pods of THC and approximately 17 grams of cocaine.
23-year-old Daltyn Childers and 21-year-old Aryin Ray were arrested on charges of dealing cocaine and possession of marijuana.