This is an archived article and the information in the article may be outdated. Please look at the time stamp on the story to see when it was last updated.
UPDATE: 
Christina Vargas pleaded guilty to four counts of neglect of a dependent on May 30, 2017.
ORIGINAL STORY: 
LEBANON, Ind. (July 29, 2015)-- A man and woman face a list of disturbing charges, and four children are in the custody of a family member, according to police, after arrests in a child molestation case.
Both David McQuaid, 35, and Christina Vargas, 34, made initial appearances in court in Boone County on Wednesday morning.
McQuaid faces 33 counts, 21 of them include child molesting charges.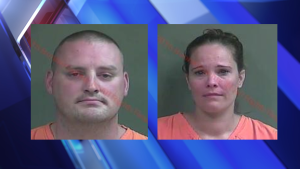 Vargas faces six counts, one of them includes aiding, inducing, or causing child molesting.
Lebanon Police said the two are married, though Vargas goes by her maiden name.
Police are crediting a family member with speaking up and getting the investigation going.
"Because of the brave actions of the family member that came forward, now these children have a chance at getting the help they need," said Sgt. Ben Phelps, with the Lebanon Police Department.
Police say on July 12th, a family member tipped them off that something wasn't right, that four children, girls ages 13, 11, and 8, and a 16-year-old boy were in danger.
Investigators said that tip proved true.
Prosecutors in Boone County charged McQuaid with 21 counts of child molesting, four counts of performing sexual conduct in the presence of a minor, seven counts of neglect of a dependent, and one count of battery.
Prosecutors charged Vargas with one count of aiding, inducing or causing child molesting, one count of performing sexual conduct in the presence of a minor, and four counts of neglect of a dependent.
Police said McQuaid molested the girls and was physically abusive to the teen boy, with the violence happening at numerous residences in Lebanon and Whitestown in 2014 and 2015.
Neighbors on North Main Street in Whitestown said the pair lived there for four months, and they'd called police before, worried about what was going on across the street.
"I was wondering what was going on over there. We had to call the cops a couple times," said Harold Hensley, "Because of things being broken, kids hollering and screaming, her hollering and screaming."
Lebanon Police said there's a message for all of us in this case, and it comes from the family member who had the courage to call the law.
"We think people are being empowered to speak out. This type of stuff's gone on for a long time, but it was a secret, a family thing that doesn't get out. Now people are learning what it's about, what the options are, and what they can do," said Phelps.
As of Wednesday night, both McQuaid and Vargas remain jailed in Boone County on $100,000 bond each.
They were arrested Monday in Noblesville. Police said the two were living in Kentucky.
The investigation is a joint investigation with Lebanon Police, Whitestown Police, and Indiana DCFS, according to police.