This is an archived article and the information in the article may be outdated. Please look at the time stamp on the story to see when it was last updated.
INDIANAPOLIS, Ind.– Shortly after the Indianapolis Colts home opener game ended and members of the Raiders team were leaving the field, two fans fell from section 148 onto the Raider's field tunnel.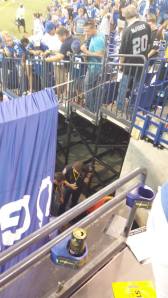 The two fans received immediate medical attention by IU Health medical team. One fan was checked out and released, but the other fan was taken, as a precaution, to Methodist Hospital for further evaluation. However, officials said the second fan was not seriously injured.
The cause of the railing collapse is unknown at this point and is being investigated by stadium officials.
A witness told Fox59 News that the fans were leaning over the rails in an attempt to grab gloves thrown by Raiders' safety Charles Woodson.
Fox59's Zach Myers will have more about what the witness said and updates on this story beginning at 4 p.m. on Fox59 News.