This is an archived article and the information in the article may be outdated. Please look at the time stamp on the story to see when it was last updated.
INDIANAPOLIS, Ind. – Two different flavors of Oreo cookies are being recalled due to a milk allergen that wasn't declared in the products' ingredient lists.
A New Jersey company, Mondelez Global LLC, announced the recall of its Mint and Original Oreo Fudge Cremes on Friday.
The products were sold nationwide, including the U.S. Territories of Puerto Rico, St. Croix and St. Thomas.
"People who have an allergy or severe sensitivity to milk run the risk of serious or life-threatening allergic reaction if they consume this product," according to the Federal Drug Administration.
Consumers who have purchased the products with these "Best When Used By Dates" should not eat them and should dispose of them immediately: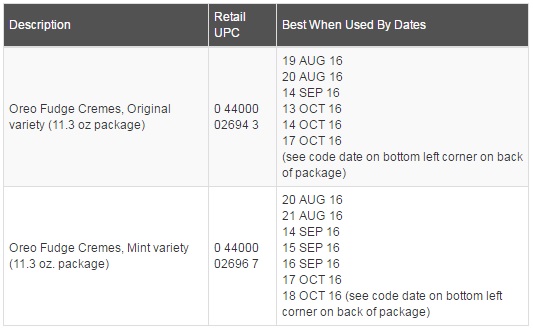 The FDA says there has been one report of an allergic reaction related to these products.
Consumers can contact the company at 1-855-535-5948, 24 hours a day to get more information about the recall.