This is an archived article and the information in the article may be outdated. Please look at the time stamp on the story to see when it was last updated.
WAYNE COUNTY, Ind. (June 16, 2014)– A traffic stop late Friday afternoon in southern Wayne County led to the discovery of 450 pounds of marijuana.
Around 4 p.m. Friday, an officer stopped a Ford F250 pickup on US 27, about 6 miles south of Richmond, for speeding.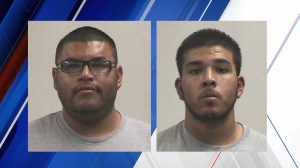 After speaking with the two truck occupants, the officer became suspicious and called for a K-9 deputy. As the dog walked around the truck, it alerted officers to the presence of narcotics.
After further investigation officers discovered 450 pounds of marijuana, packaged in 25 pound plastic bundles, hidden in the truck.
The driver, Joe A. Caudillo, age 28, and his passenger Israel A. Aguirre-Contreras, age 21, both of Greensburg were arrested.
The two men were lodged in the Wayne County jail on class "C" felony charge of dealing in marijuana over ten pounds.