This is an archived article and the information in the article may be outdated. Please look at the time stamp on the story to see when it was last updated.
(April 29, 2013) – Two Indianapolis neighborhoods rank among the most dangerous in the country.
The report comes from a website called Neighborhood Scout, which ranks areas in terms of crimes like rapes, homicides, armed robberies and aggravated assaults. The company used FBI data to create a formula for predicting violent crime.
According to the report, the area near the Children's Museum of Indianapolis is the 17th most dangerous in the country. It's in the North Meridian Street area from West 34th Street to Central Avenue down to West 30th. The zip codes there are 46208 and 46205, and the chance of becoming a victim is 1 in 14.
The area just north of downtown from West 30th Street to Fall Creek Boulevard just west of I-65 is the 20th most dangerous area in the nation. The zip code there is 46208, and 40 percent of the homes there are vacant, a problem that can lead to increased crime rates. The chance of becoming a victim in that neighborhood is 1 in 14.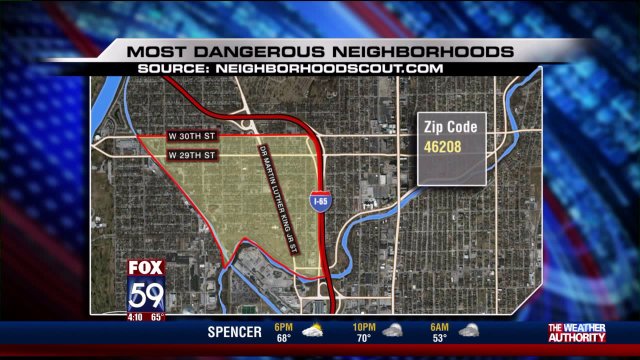 The report ranked three neighborhoods in Detroit as the nation's most dangerous. Four Chicago neighborhoods ranked in the top 25. The chance of becoming a victim in the worst neighborhood is 1 in 7.
For the complete list of dangerous communities, visit the Neighborhood Scout website.