This is an archived article and the information in the article may be outdated. Please look at the time stamp on the story to see when it was last updated.
INDIANAPOLIS, Ind. –Good Tuesday afternoon! It's been a wet day across central Indiana with numerous thunderstorms moving through the area. Some of the storms have been producing a quick 0.50 to 1 inch of rainfall. Here's a look at some of the rainfall totals since this morning.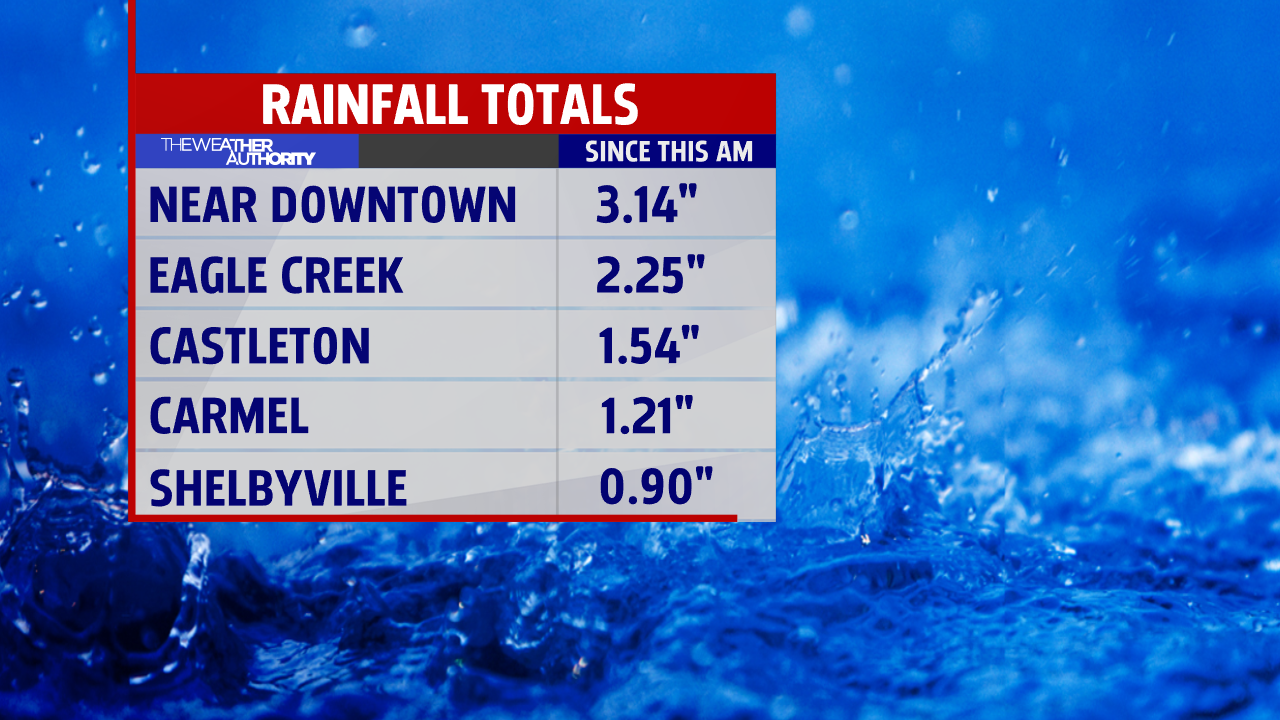 Thunderstorms will continue through this evening and continue to pose a risk of heavy downpours and ponding on the roadways. Cloud-to-ground lightning is also a threat. Lows tonight will be in the low 70s.
Wednesday will be hot and humid with highs in the upper 80s and dew points in the low 70s. Heat indices will be as high as mid-90s in the afternoon. Scattered thunderstorms will once again be around the area as an upper low moves through. Some of the storms may be strong to severe with damaging winds and hail.  Torrential rains will also accompany the strongest storms. The SPC has highlighted central Indiana in a slight risk for severe weather on Wednesday.
It looks like we'll have a chance of storms in the morning with the bigger severe threat in the afternoon hours. We'll keep watching. Thursday will bring a cold front and while temperatures will still get close to 90 degrees, the humidity will come down with a northwest wind 10-20 mph. A mix of sun and clouds is expected with a slight chance of storms on Thursday.
Friday through the weekend will be nice as high pressure builds back in. The humidity will be lower and the temperatures will be in the mid-80s. Dry weather is expected for Father's Day but it will be hot with highs near 90 degrees. Look for the next chance of rain next Monday along a cold front. –Danielle Dozier