This is an archived article and the information in the article may be outdated. Please look at the time stamp on the story to see when it was last updated.
Lance Stephenson's pose was a little bit different this year.
Not to bring up past mistakes for unnecessary reasons, but to perhaps to fully appreciate what the Pacers are doing this year after dismantling the New York Knicks 93-82 to take a 3-1 lead on Tuesday night at Bankers Life Fieldhouse, you have to realize how far this team has come. Both on the court, and off the court as well.
As many will remember, once the Pacers were on their way to taking a 2-1 lead over the Miami Heat in the 2012 Eastern Conference Semifinals, there was Lance Stephenson on the bench. Despite the fact Indiana had won the game 94-75, Stephenson had found a way to leaving his own personal stamp on the game even while shooting 0-1 with just over a minute of play.
The choke sign heard all around the NBA, just a bad mistake from a young player learning to play in a league of adults. As Heat superstar Lebron James would say, "Lance Stephenson? You guys want me to quote about Lance Stephenson? I'm not even going to give him the time. Knock it off."
One year later, James and the rest of the Heat may have to find themselves at least discussing Stephenson. Not for mishaps on the court, but for stat-lines that have been produced all season long like Wednesday night's 13 points, 7 rebounds, and 35 minutes of play that has been one of the reasons this Pacers team have positioned themselves to take the next leap into the Eastern Conference Finals with one more victory.
Instead of making poses from the bench as the time winds down, Stephenson is finding himself hitting spot-up threes with assists from Paul George and blazing by Carmelo Anthony when given enough space to dart straight to the hoop.
No choke signs anymore, just arms up in the air in full excitement.
"It is tough," said Stephenson. "Every playoff game is tough. We have to stay mentally into it, and just play hard."
Playing the right way on the court, saying the right thing in the locker room. Lance Stephenson truly has taken a full 180-degree turn in front of all of our eyes in a calendar year, acting like a player that should be here.
You know who else has acted like they should be here? Every single one of the Pacers players walking into the locker room on Tuesday night, high-fiving because they had won the game, but not celebrating as if they had accomplished anything just yet.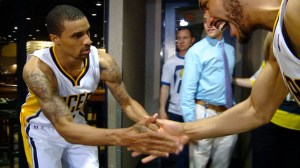 The Pacers had been here before, just one year earlier with a 54-46 lead going into the half of game four against the Miami Heat. This year however, perhaps the most-important sign of a potent playoff squad, this 2013 Pacers team takes care of business when given the opportunity.
"Yesterday I thought was key," said David West following a double-double performance with 10 points and just as many rebounds.
"We had a great day of preparation, and in terms of attitude, we had no guys who were getting on the high-horse. We felt like we accomplished something last year, and I think this year we understand that we didn't accomplish anything. We still haven't, we just held serve our our home-court and that was most important for us during these last two games."
Indiana perhaps did more then just defending their home, but they have found a way to continue to wreck the Knicks on offense. While Carmelo Anthony had another uninspiring performance, scoring 24 points on 9-23 shooting, the Pacers held two starters in Kenyon Martin, Iman Shumpert, and Jason Kidd off the bench scoreless through the entire contest.
"I saw a lot of growth," said Pacers Head Coach Frank Vogel. "It was great determination by our guys tonight. That was the only way you can put it. Great determination and great growth, in terms of answering a win with a win with another more determined effort. That is what you need to go on a deep playoff run."
The home-grown hero in George Hill, who all season has found himself stepping up in a scoring-role when the team has needed it, may have played his best game in the shoot-first role to date. A game-high 26 points on 9-14 shooting with four assists, capped off with the play that lead to the loudest applause of the night. Dribbling at the top of the key, David West went up to set a pick for Hill on Raymond Felton. Hill drove to his right, and the pick was semi-successful, slowing down Felton just enough to give Hill a good enough head-start to the basket. Felton reached, Hill went up for the lay-up, and the and-one basket nearly blew the roof off Bankers Life Fieldhouse as Indiana went up 16 in the third.
"I was just trying to be aggressive, take what the defense gave me," said Hill. "They are an explosive offensive team so we wanted to make them work defensively. Coach Shaw says to me all the itme just keep taking the shots they give you. We're a deep team, and the way we played tonight we can be a great team."
As for the rest of the Pacers, it seemed as if it was business as usual. Paul George had another outstanding game, this time adding 18 points, 14 rebounds, and 7 assists, while Roy Hibbert controlled the paint both offensively and defensively, adding in 11 rebounds to boot.
Because  of that, Indiana is now just one game from what looks like could be a potential rematch with the defending champion Miami Heat (up 3-1 against the Chicago Bulls). Right now, as long as the Pacers can continue to handle their business (New York has never come back down 3-1 in a series), Indiana should advance to the series that determines who goes to the NBA Finals.
But the focus now shifts to Thursday night's game five at Madison Square Garden. Where this Pacers team, who are now sensing the potential quit of the New York Knicks, are playing, and acting, like a team that should clinch on their opponent's home-floor for the second series in a row.
Of course, that doesn't mean the team can't show off one fun pose for a camera.