This is an archived article and the information in the article may be outdated. Please look at the time stamp on the story to see when it was last updated.
BLOOMINGTON, Ind. – A man was fatally shot by police when he pointed a gun at two deputies serving a warrant, according to Monroe County Sheriff Brad Swain.
Deputies Don Teague and Deandre Moxley were serving arrest warrants at a home in the 5900 block of Tower Road around 9:15 a.m. when a man came out with a handgun. Swain says he pointed that gun at two deputies who then shot him.
"They had attempted to serve a warrant on him in the past and he fled out a back door," Swain said.
Swain said the deputies went to the house to serve a warrant on a 33-year-old woman for violating home detention, but they believed Daniel Boyer, 24, would also be at the home. Boyer was wanted on two warrants for dealing methamphetamine and possession.
Deputies administered CPR, and Boyer was transported to the hospital where he was later pronounced dead. The preliminary autopsy showed Boyer sustained four gunshots: one to his right index finger, two to his left thigh and a superficial wound to his lower back. Toxicology reports are pending, according to the Monroe County Coroner's Office.
Officials say Deputy Teague has been a member of the sheriff's office since 2013. He's a certified Instructor through the law enforcement training board, specializing in physical tactics and Standardized Field Sobriety Testing, a Field Training Officer and a Marine Reservist with a deployment to Iraq.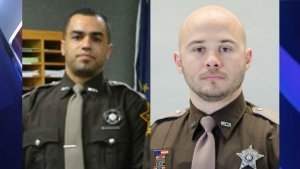 Teague was training Deputy Moxley who has been with the sheriff's office since January 2018. He graduated the Indiana Law Enforcement Academy in May of this year and entered into his Field Training Phase. Both men have been placed on paid administrative leave pending an internal investigation.
Both deputies were wearing body cameras at the time of the shooting, and Swain said his investigators were looking through the video and would likely release it to the public once it has been reviewed.
Following the shooting, officers arrested the woman who was wanted on a warrant, and found two other adult women inside the home. One of those women had drugs on her and charges could be forthcoming, Swain said. Officers also found a 16-year-old boy in the home who Swain described as a ward of the state who escaped from an Indianapolis facility. The boy suffered a medical episode at the jail and was taken to a nearby hospital.
Swain said this is the first fatal shooting involving his officers in decades.
"(We serve warrants) hundreds of times a year and then all of a sudden, you have someone that just comes out a door armed and points a gun, and in just a matter of moments you have to respond," Swain said.