This is an archived article and the information in the article may be outdated. Please look at the time stamp on the story to see when it was last updated.
CLINTON COUNTY, Ind. – A 17-year-old girl was arrested after she crashed her vehicle into a Clinton County home Wednesday night, killing two girls inside.
The Clinton County Sheriff's Office says they asked the prosecutor to charge the driver with criminal recklessness resulting in death. At a press conference earlier in the day, officials with the sheriff's office said the driver may have been under the influence of opioids and she could face more serious charges of operating a vehicle while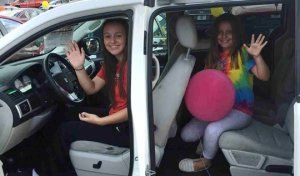 intoxicated causing death and operating a vehicle while intoxicated causing serious bodily injury if the presence of opioids is confirmed.
The crash happened just before 9:30 p.m. in the 4900 block of West County Road 300 North at the home of Dennis and Bridget Fullerton.
When Clinton County Sheriff's deputies arrived on scene, they found a white vehicle in the living room. Several people were still in the vehicle, according to the sheriff's department.
The Fullertons' family members said two sisters, ages 17 and 9, were watching TV in the living room when the car crashed into the house. They were killed on impact.
Family members identified the victims as Haleigh and Callie Fullerton. A GoFundMe account has been set up for those who would like to provide donations.
Their mother, Bridget, 37, was walking into the room as the car came crashing through the home; she was flown by helicopter to an Indianapolis-area hospital for treatment. Her condition is unknown at this time.
The family's son was upstairs at the time of the crash, and he was uninjured. Dennis was not home when it happened.
Investigators say there were three other juveniles in the car at the time of the crash. They were treated with non-life threatening injuries at the scene. It is unknown at this time what caused the driver to lose control of the vehicle and travel 100 feet off the roadway at 80 miles per hour.
The home has major damage, and local members of the Fullerton's church secured their home.
The vehicle involved in the incident has been impounded by authorities. The driver was taken to the juvenile detention center in Delaware County.
The prosecutor's office will determine if the 17-year-old driver will face charges as an adult.
Teen arrested after crashing car into Clinton County home at 80 mph, killing sisters. Police say teen driver was visibly impaired. pic.twitter.com/Vd99nuvLXN

— Alexis McAdams ABC-7 (@AlexisMcAdamsTV) July 13, 2017