This is an archived article and the information in the article may be outdated. Please look at the time stamp on the story to see when it was last updated.
By Nicole Pence
INDIANAPOLIS – A tea-cup Chihuahua is missing his front legs, and now one Indianapolis veterinarian clinic is asking for donations to help make him mobile.
Turbo Roo is only six weeks old. He weighs less than a pound and was born without his front legs.
"He can push himself around with those nubs he does have," said Vet Tech Ashley Looper.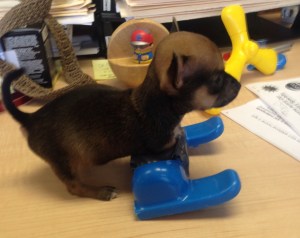 Turbo Roo was dropped off at The Downtown Veterinarian.
Vet tech Ashley Looper has to hold Turbo Roo up to eat and drink every time. Looper has adopted him.
"He definitely has a different personality because he is handicapped. He is just spunkier. In the morning, he is alert and ready to go and you see him walk and he is just happy!" said Looper.
To help Turbo Roo move on his own, the veterinarian staff has been thinking like engineers.
For Turbo Roo's first car, they took apart a Fishers Price helicopter.
"We cut off all the pieces, and we started making a little boat type that he could push himself. The wheels didn`t work and it was actually too heavy for him," said Looper.
The next cart was made out of straws. The cart was not sturdy enough.
"We need the cart so he can get support on his front end, so he can move around more naturally and use legs more naturally and his back. So, there is not stress put on all his other joints," said Dr. Trish Wiggers.
Turbo Roo's latest cart is held together by piping, but it needs to be welded.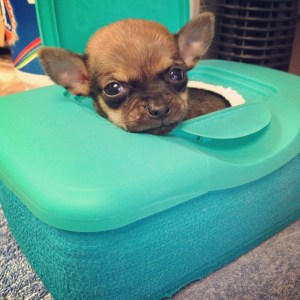 As the dog grows, the carts will no longer support him.
"We need to get a cart specially designed for him," explained Dr. Wiggers.
Specialty carts start at $200. The Downtown Veterinarian is collecting donations at their downtown location and by calling (317) 972-1111.
"It is just really rewarding to see how he responds to all of us, and everyone trying to help him out," said Dr. Wiggers.
Turbo Roo has several social media accounts including Facebook, Twitter and Instagram.