This is an archived article and the information in the article may be outdated. Please look at the time stamp on the story to see when it was last updated.
INDIANAPOLIS, Ind. – Vice President Mike Pence joined Gov. Eric Holcomb and officials from tech firm Infosys for a major high-tech jobs announcement Thursday.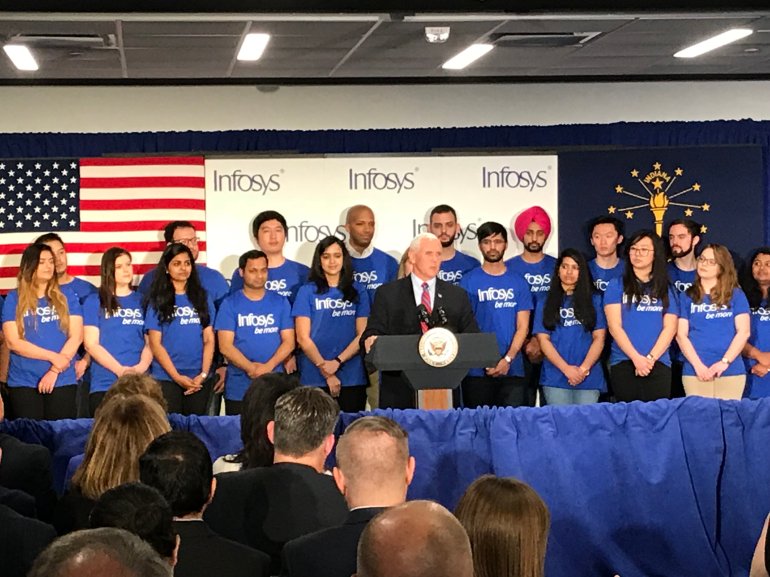 Infosys, a global leader in consulting, technology and next-generation services, announced it will establish its U.S. Education Center in Indianapolis to train American workers and arm them with skills for the digital future. The company also announced that it has expanded its hiring plans for Indiana from 2,000 to 3,000 new jobs by the end of 2023.
WATCH: @VP Mike Pence is back home in Indiana for an announcement to bring thousands of jobs to Indianapolis. @Infosys pic.twitter.com/PJuW1V4nOF

— Olivia McClellan (@OliviaMNews) April 26, 2018
Holcomb described the jobs as high-paying and said they would be in the technology field.
Infosys will provide an initial investment of $35 million to create the first 125,000 sq. ft. of development to transform the 70.5-acre site at the old Indianapolis airport terminal into its U.S. Education Center. The tech company will break ground on this initial phase before the end of 2018 and anticipates its completion by the end of 2020. The initial phase will comprise of a training center and will accommodate a 250-person residential facility.
"It is truly transformative and it will create the renaissance for Indy's West side. We're incredibly appreciative of that. The West side communities have been asking and wishing for a long time for a game changer. This is that game changer. It will change the face of the West side," said Indianapolis Airport Authority Executive Director, Mario Rodriguez.
Our media partners at the IndyStar reported that Infosys agreed to terms Monday with the Indianapolis Airport Authority, the city and the Indiana Economic Development Corporation. City and state development incentives are folded into the deal, the newspaper reported.
"Today's announcement with Infosys is a big win-not just for Indiana but for the nation as a whole, which is why I'm glad Vice President Pence was able to join us," Governor Eric J. Holcomb said. "Infosys' state-of-the-art training facility will teach thousands of folks across America right here on Indiana soil. And, it will help prepare more current and future Hoosiers for success in our rapidly evolving, global economy."
Standing ovation as @GovHolcomb is addressing the crowd for @Infosys jobs announcement. "We are prepared, we will not let you down." pic.twitter.com/WJLMaxSDXg

— Olivia McClellan (@OliviaMNews) April 26, 2018
This announcement is part of Infosys' commitment to hire 10,000 American workers over the next two years and invest in training to ensure that the U.S. workforce has the essential skills required for the digital economy.
"Once again, Indiana has proven this is a new day in America… It's a new day for growth and opportunity, and I truly believe the best is yet to come," Pence said during the announcement. "Infosys said yes to America and today, they're saying yes to the State of Indiana once again."
Something that didn't get much discussion during the event was the more than $100 million  in potential tax breaks being offered by the state and city.
"It's an investment in the future," said Indiana Secretary of Commerce Jim Schellinger, who defended the need for such large tax incentives, "they're all performance-based, so the company must perform before the receive one tax credit."
Pence was originally scheduled to come to Indianapolis this week for an event from America First Policies focused on tax policy. That event has been rescheduled for May 18.