This is an archived article and the information in the article may be outdated. Please look at the time stamp on the story to see when it was last updated.
INDIANAPOLIS, Ind. (March 26, 2015) – The crowd joined hands in prayer, they made a plea for peace and answers following Tuesday's quadruple homicide. Pastor A. Thomas Hill, with Drive-by Prayer, led the service in front the home where in the 3100 block of N. Harding where the four bodies were discovered.
"We're constantly going back to that area because of once incident after another and you wonder when does it stop, does it ever stop," said Pastor Hill.
The victims were identified as 32-year-old Tiara Turner, 41-year-old Terri Betties, 48-year-old Sherry Taylor and 18-year-old Davon Whitlock.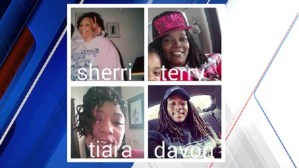 "Please come forward if you have a heart. I know you have sisters, brothers, aunties, uncles. Y'all took that all away from us for no reason," said Tia McBrady, who lost her sister Terri and nephew Davon.
No one is in custody and police cannot say if an individual or multiple people are behind the killings. Investigators said they are continuing to interview witness and ask the public for tips. A motive is still unclear but police said it was not a random act.
Police are confirming a stolen Mitsubishi is connected with the incident but would not elaborate. The car was recovered on Tuesday after the bodies were discovered.
"That's when we need each other, that's when we need the love of those to come alongside and to bring comfort especially when it's an event like this a senseless violent event and in most cases you don't know who the perpetrator is, you don't know what's behind it all," said Pastor Hill.