This is an archived article and the information in the article may be outdated. Please look at the time stamp on the story to see when it was last updated.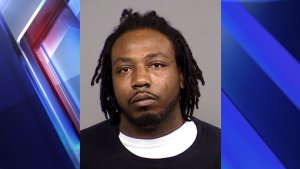 INDIANAPOLIS, Ind.– Video posted on Facebook shows the chaotic moments at a gas station on the northwest side before IMPD officers were led on a chase and one was shot.
The video was posted Monday evening, and removed Tuesday.
The suspect's vehicle was stopped Monday at the Marathon Gas Station at 7100 Georgetown Road around 6:37 p.m. after it was recognized from criminal activity earlier in the week.
Police say the driver, 32-year-old Jeff Tyson, became belligerent when officers approached the vehicle, and refused to comply with commands. An officer fired pepper ball rounds into the vehicle and Tyson sped off. The incident was captured on video, which was removed from Facebook by the person who posted it.
The video, which generated tens of thousands of shares and comments before being removed, begins by showing two IMPD officers standing at the driver's side of Tyson's vehicle. Tyson screams obscenities and tells them to get away from his car. Tyson is heard shouting, "No, get away from my car."
A third officer approaches, armed with the device that shoots pepper balls. He is pointing it at the vehicle. The other two officers back up and the officer with the pepper balls moves in, shooting three balls in quick succession. Tyson begins to drive away, and the officer fires seven additional pepper balls. A woman is seen sitting on the ground as the car drives away. She's screaming and holding her hands up. Officers put her in handcuffs as other police cars begin to pursue Tyson. The video then ends.
Several comments claimed officers fired shots into the suspect's vehicle. Those comments and rumors were addressed by IMPD in a press conference today.
IMPD acknowledged the video during a press conference Tuesday. They said it shows their officers clearly giving verbal commands to Tyson and he refused to comply.
Police also noted someone can be heard in the background commenting that the officers weren't using lethal force at this time in the incident.
In the video FOX59 viewed, a person can be heard saying, "He's lucky that wasn't no gun."
The female passenger who bailed out of the car is either the girlfriend or wife of the suspect, police said. She was taken into custody to be questioned. Police have not said if she's been arrested or charged.
A second video of the incident was also removed from Facebook. Jeff Tyson's family issued this statement regarding the second video:
"Now we hear that it was pepper balls but never saw a pepper ball pierce a car!!! But what we feel is very important to know is that JT was our family and he's so much more than the criminal record and the public smears he's getting right now!!! He was a good husband, brother, uncle and friend to us all that were in his life and the world will never know how special and great he was to a lot of people. Nobody knows how he came to my house EVERYDAY to be a part of my kids life. To wrestle and play with them and to teach them about life and man things that I can't teach my boys and he took time out of everyday to be here and me, my children and friends will never be the same without him. He was not the person he's being painted to be!!!! He was a gift to me and my kids and anyone that was blessed enough to be able to spend time around his amazing personality. He had a laugh and smile that would light up a room. And he was my family and I love him and will miss him forever."
Police say during the chase, the suspect made a U-turn and fired at the officers. One was hit in his lower right ankle and also suffered a graze wound to the back of his head. The officer riding with him was struck by debris. Officers did not fire from their moving vehicle.
The pursuit eventually ended in Tyson's death after he fired again at officers near Rural Street and Newton Street. IMPD said at this time, 16 officers fired 200 rounds during the exchange.
The officer's injuries were non-life threatening. He was released from the hospital overnight.