This is an archived article and the information in the article may be outdated. Please look at the time stamp on the story to see when it was last updated.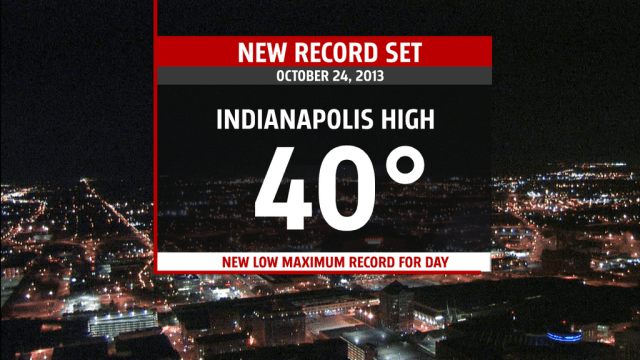 For today, expect another cold start to the day with warmer days ahead.  Looking at the 7 day forecast we are only forecasting one day hitting the average high of 62 degrees for this time of the year but we have to go up after seeing a record breaking Thursday.  Thursday's high of just 40 degrees broke the record for October 24th when it comes to the coolest high temperature mark.  We call it a low maximum and the previous record was 41° set back in 1937.
The sun is set to return for today and we should see plenty of sun over the weekend.  Highs today will be in the upper 40s with winds coming in from the west at 5 – 10mph.  Winds will pick up to 10 – 20mph out of the southwest on Saturday and that should push highs to the upper 50s.  A weak front slides through Saturday night into Monday morning bringing a slightly cooler day for Sunday.  Sunday highs will be in the low 50s.
The warming trend continues next week with highs just shy of 60 degrees for Monday through Tuesday.  There will be a chance for some rain showers for the end of the day on Tuesday.  This rain chance will wrap up on Wednesday morning.  No wintry precipitation will accompany the rain.  Storms will be possible late Halloween day and at this point I am hopeful storms will arrive after kids have been out.  Ahead of the stormy weather strong southerly winds will push temperatures up into the upper 60s!  Enjoy your week!