This is an archived article and the information in the article may be outdated. Please look at the time stamp on the story to see when it was last updated.
TEMPS SURGE
Warmest air in two weeks arrived on southerly winds Thursday.  In the city the temperature reached 49° – warmest here since just before the 1st snow storm of the season.  Other area temps reach end into the 50s with a high of 53° at Bloomington and 50° at Terre Haute.  The streak of cold is snapped after 13 straight days of below normal weather.  The Month is averaging nearly 5° per day below normal but the snap of cold was impressive.  The average temperature from December 6th through the 18th was a 22.1°.  That ranks 12th coldest for the dates going back to 1871!
WARMER FRIDAY
A warmer night will lead to a mild end to the work week with a forecast high Friday to top the middle to upper 50s in the city.  We expect to wake up to around 46° in the city Friday and jump to 57°, that is 12 to 15 degrees above normal.  The warm up will come with scattered showers.  Showers are possible starting after midnight and will diminish later Friday night when winds shift again to the northeast.
HERE COMES THE RAIN
The first wave of showers in the area Friday are likely to remain rather light but round 2 is due here later Saturday and Saturday night.  Area flood watches have been issued starting late Friday and lasting into Sunday morning.  The storm system is still off the coast of California late Thursday night making its way through the desert southwest by Friday morning.  As the storm emerges, the radar will light up tapping Gulf of Mexico moisture with stronger upper air currents moving in.  The main event comes Saturday night as the strong low pressure system tracks through central Indiana by sunrise Sunday morning.  Rain is expected to become heavy Saturday evening and continue until daybreak Sunday.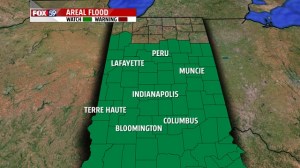 LATEST RAINFALL NUMBERS
Several rain bearing computers are now on board as the system gets into our shorter term forecast and the amounts are remarkable.  There will be heavy rainfall here – without a doubt – the question is how much.  The consistency of the computer runs have been outstanding and late numbers off 6 various computers have bumped us back up to 3.21" in the city with a range of 2.44" to 4.83" – this is record territory for December rainfall.  Significant flooding is likely by Sunday morning.  If you are in flood prone areas the time to take action is now.  Rivers, creeks and streams will be bank full by Saturday evening and in flood through Sunday.
COLD IS COMING BACK
AS the storms departs Sunday morning colder, drier air will come roaring in again.  A brief jump into the mid to upper 50s is possible very early Sunday then falling temperatures are expected through Sunday afternoon.  Temperatures are expected to fall into the lower 20s by Monday morning and hold steady there all afternoon.  The surge in cold will bring scattered snow showers with through Monday evening.  Very cold air is expected early Tuesday morning with lows Christmas Eve morning in the single digits.
SNOW CHANCES
Snow showers are possible with the surge of cold Monday and there is a chance of snow showers again Christmas Day.  No significant accumulation is expected at this time but there may be a coating Monday evening and again Wednesday night.  Stay tuned – we still have that shot at snow for Christmas.