This is an archived article and the information in the article may be outdated. Please look at the time stamp on the story to see when it was last updated.
(May 19, 2014) – Another bright, cool start this morning!  If heading to the track again for more practice later the weather looks great.  Clouds will be increasing with just the slightest chance of a shower this afternoon.  Overall, I'd give today a B+ in terms of sky conditions, temperatures and weak shower threat!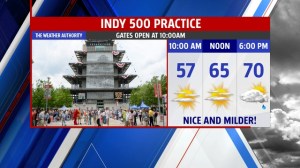 The warm front passage tonight should bring us a burst of warmth tomorrow, as humidity climbs too!  Tuesday looks dry before more storms develop on Wednesday. The Storm Prediction Center has placed us under a slight risk, so it bears watching for Community Day at the track!
This is one of the biggest weeks of the year for us Hoosiers, as race weekend approaches the weather looks great!  Check out the updated extended forecast: