This is an archived article and the information in the article may be outdated. Please look at the time stamp on the story to see when it was last updated.
INDIANAPOLIS, Ind. – Officials from the Children's Museum of Indianapolis took the wraps off their plans for a massive $35 million expansion meant to combat obesity.
The Riley Children's Health Sports Legends Experience is touted as a "new national model for fitness." The 7.5 acre expansion is designed to get kids interested in fitness and help families integrate physical activity into their lives on a daily basis.
The museum consulted with several local sports teams and experts, including the Indianapolis Colts, Indiana Pacers and Fever, Indy Fuel, USA Gymnastics, USA Football, Pete Dye Golf Trail and more. The Children's Museum partnered with Riley Children's at Indiana University Health on the project.
"This new 7.5 acre indoor and outdoor, inter-generational family learning experience will sit to the immediate north of the current museum building and will open in the spring of 2018," said Jeff Patchen, president and CEO of the Children's Museum.
"We wanted to create something that was rich in sports history and also had lots for people to do," Patchen said.
He said the idea began about five years ago when they tried to come up with ways to help kids get more active. He and staff members visited the Baseball Hall of Fame, the Basketball Hall of Fame, the Football Hall of Fame, the ESPN Wide World of Sports and other venues to get inspiration.
The investment is just the latest venture for a museum that has seen some major success. All, while the surrounding neighborhood struggles with crime.
In just the last six months, a map provided by the city, shows the litany of crime, crippling the museum's surrounding neighborhoods. Everything from robbery to murder, creeping in to the surrounding city blocks.
"We take great pride in our incident rate at the museum which is extraordinarily low and has been," said Patchen.
Museum officials have seen few incidents on museum property and insist their newest development will remain free from crime.
"So this will be a contained area, it will be fenced and it will be secured and monitored just as the indoors is now," said Patchen.
Colts quarterback Andrew Luck spoke at the unveiling Wednesday.
"This is totally an honor, totally a privilege to be a part of this," Luck said. "I'm beyond excited to be a part of the Children's Museum's Sports Legends Experience—the Riley Children's Health Sports Legends Experience."
Luck said sports have always played a huge role in his life. He said he waited every day for his dad to come home so they could shoot hoops, kick soccer balls, throw footballs and play other sports. If his father wasn't available, he'd play with his sisters or mother or find people in the neighborhood to play with.
Luck said his family moved around a lot—13 times by the time he was 11 years old—and he made friends through sports throughout his life. While he certainly participated in organized sports, he said games with neighborhood kids were extremely important.
"I truly do understand the power of sports, whether it's an organized team activity at the professional level or if it's just in the neighborhood with your little brothers, your little sisters."
Luck played basketball and baseball in high school. He also ran track and enjoys soccer. His sisters were on the swim team every summer. He believes sports activities keep families together. He's also excited about what the Sports Legend Experience will offer for families.
"There's something for everybody at every age," Luck said of the new attraction.
Here's a look at key components of the sports park:
Indiana Pacers and Indiana Fever Basketball Experience
Old National Bank Sports Legends Avenue of Champions
Indianapolis Colts Football Experience
The Sports Legends Pavilion and Plaza presented by the Efroymson Family Fund
Pete & Alice Dye-designed Golf Experience presented by Henry and Christine Camferdam
The Children's Museum Guild Fantasy Tree House of Sports Climbing Experience
Wiese Field donated by Elizabeth Bracken Wiese and J. Frederic Wiese, Jr.
Jane and Steve Marmon Running Experience
USTA Family Tennis Experience
Soccer Experience
Indy Fuel Hockey Experience
Indianapolis Motor Speedway Pedal Car Racetrack Experience
Pedal Car Drag Racing Experience
Family Fitness Path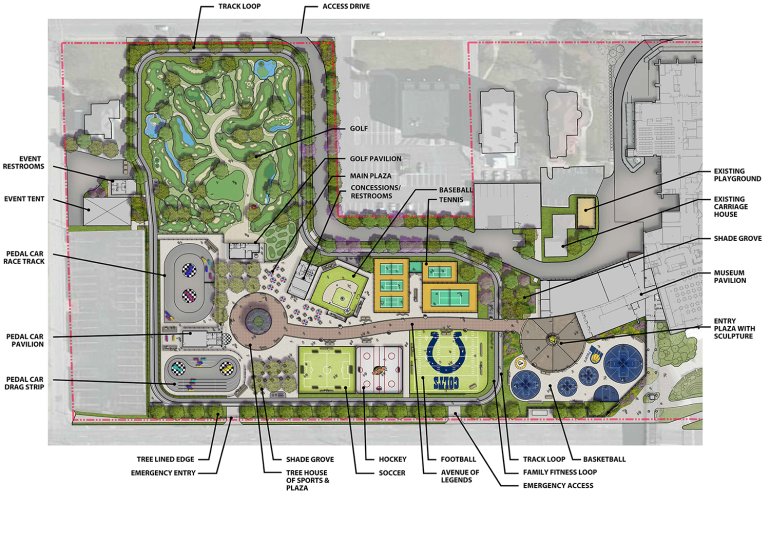 Ratio Architects, Shiel Sexton and the museum's own world-class exhibit development team worked together to plan the attraction.
The economic impact of the park is expected to be around $130 million over five years. While the indoor portion of the attraction will remain open year round, the outdoor part will operate from April through October and could also open in March or stay open until November, weather permitting. The outdoor portion will also be lit at night.