This is an archived article and the information in the article may be outdated. Please look at the time stamp on the story to see when it was last updated.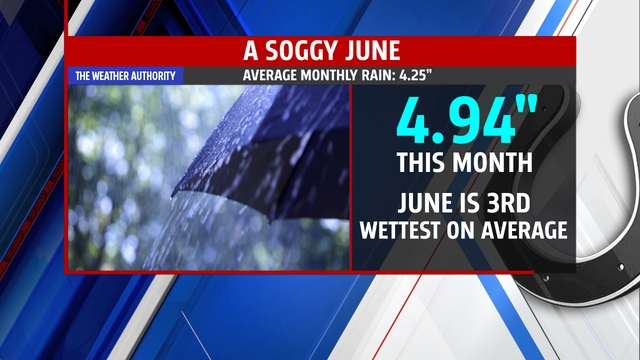 We get a break from the rain today with rain chances returning for your Sunday.  After the morning fog breaks we should be looking at scattered clouds throughout the day and temperatures in the low 80s for most of the day.  Basically today will be another near perfect weekend summer day for the area.  Rain chances, however, are set to return on Sunday and as we head into the work week we will be hard pressed to find a day with a rain chance close to zero.  That being said it doesn't look like we will see any washouts either.
As we head into the overnight hours there will be a possibility of storms rolling through.  While not guaranteed we could see strong winds rolling through associated with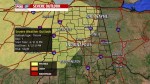 the storms.  Due to this threat the area has been added to the severe weather map for today with a slight chance.
June has already been a wet month.  If you turned off natures water spout right now and kept it off for the rest of the month we would still have hit our monthly average.  It's no surprise that June has been wet overall.  This month is generally the third wettest month of the year.  The thirty year average rain for Indianapolis is 4.25".  As of Friday the 20th the Indianapolis airport has recorded 4.94" of rain.  It has been good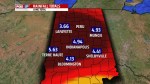 rains as well with the city recording rain on 13 of the 20 days of the month so far.  The fact that there are few long gaps along with the relatively small amounts of rain on many of these days mean we have seen mostly soaking rains that are really good for trees and local vegetation.
The rainy pattern is expected to stick around for the rest of the month.  We could near 7 inches of rain overall for the month.  Summer officially begins this morning and it looks like our overall pattern will be a summertime pattern (afternoon storms develop through sundown), but some days will see an enhanced threat due to weak boundaries nearing area.  It looks right now like the best day for rain will be on Tuesday as one of these boundaries is forecast to move near us.  Coverage I think will be the same or about the same as other days but storms could be a little stronger.  We will watch it closely.  Enjoy your day.