This is an archived article and the information in the article may be outdated. Please look at the time stamp on the story to see when it was last updated.
WARMTH HANGING ON
Added clouds Thursday hold back the temperature climb but still an average afternoon.  The official high of 76° is more typical for late May but down from the 81° Wednesday.  The clouds are likely to linger overnight keeping us warm but the same clouds could bring rain especially over the western third of the state.  Overnight temperatures should remain near 60°
RAIN CHANCES ON THE RISE
A slow-moving upper low will be the culprit behind weekend rain.  Good news, it's a slow mover so there will be many dry hours Friday and for many even Saturday.  The bad news it will bring locally heavy rainfall and drop temps here some 15° to 20° from Wednesday afternoon.  The rainfall amounts will vary widely from nothing to as much as an inch.  The exact placement of this upper low is still being resolved and will impact weekend temperature and rainfall amounts.
Rainfall amounts off 5 various machine forecasts places an average of .38″ of rain down through Sunday night in the city.  Rainfall this time of the year is very rarely evenly distribute and therefore  the spread in the rain amounts is large ranging from nothing to as much as 1″.  Later runs will better identify the storm placement and amounts Friday.
RARE MAY SNOW
Over a foot of snow fell in parts of Colorado Wednesday and snowfall records were smashed in parts of Iowa and Minnesota.  Over a foot of snow fell in Fort Collins, CO Wednesday.  High school class-mate Ed Richardson sent this picture from his home there.  Over 16″ were reported in Estes park, Colorado.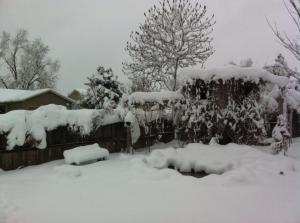 May snowfall of over a foot in Minnesota Thursday afternoon.  Winter storm warnings remain in effect for some in Minnesota late Thursday.
MINNESOTA
Dodge Center: 15.4″
Rochester 13.5″
Austin 10.0″
IOWA
Osage 7.0″