This is an archived article and the information in the article may be outdated. Please look at the time stamp on the story to see when it was last updated.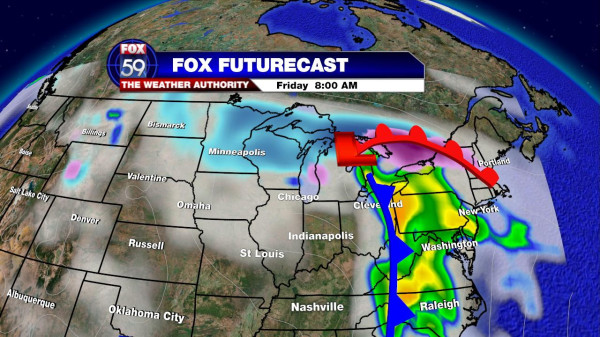 Some places across the state are drying out this morning after more than 3 inches of rain fell in their communities.  According to the National Weather Service Local office the heaviest rain set up in Delaware, Madison, Grant and Blackford Counties.  For the NWS write up on the severe storms along with a complete list of storm reports you can
click on the link below.
NWS Review of April 10th Indianapolis Storms
Now that the severe storms and rain are over we can focus on weekend weather.   Saturday highs will be in the upper 50s.  Highs on Sunday will be near 70 degrees though as winds once again switch to the south and an area of high pressure passes by to our south. 
Rain chances could begin going up as soon as Monday but I will wait until Tuesday to put in a scattered chance for rain.  Temperatures will continue to go up through Wednesday as a warm front sweeps through.  At this point it looks like storms could be possible on Tuesday and Thursday.  At this point conditions appear to show us looking at a couple of storms but no severe outbreak here.  We will see if that changes the closer we get to those dates.