This is an archived article and the information in the article may be outdated. Please look at the time stamp on the story to see when it was last updated.
BLOOMINGTON, Ind. (May 19, 2015)– Police arrested a burglary suspect Tuesday who has been called the "well-dressed thief."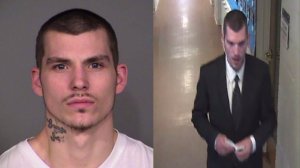 Shane Baker, 26, was wanted for four theft warrants in Marion County, one theft warrant in Morgan County and an Indiana Department of Correction parole violation.
Police say they received a tip that Baker was in Bloomington. Officers identified and arrested him despite changes to his appearance.
Police say Baker would enter buildings, go into offices and steal wallets, credit cards and identifications from his victims. He would then go on a shopping spree with those cards and spend thousands of dollars. He was caught on camera in March entering a church and stealing items from an office.