This is an archived article and the information in the article may be outdated. Please look at the time stamp on the story to see when it was last updated.
BURBANK, Calif. – People will buy just about anything online.
An eBay seller in California listed a Cheeto that looks like Harambe, the 17-year-old gorilla who was shot to death in May 2016 at the Cincinnati Zoo. The gorilla was caught on camera dragging a toddler who fell into his enclosure.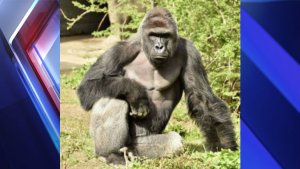 After his death, Harambe became a trending topic and the subject of numerous internet memes.
The seller, valuestampinc, has 100% positive feedback from 354 customers.
Here's the original listing:
I opened up a bag of Flamin Hot Cheetos and as soon as I looked inside I came across this unique Cheetos that looks like Harambe the gorilla.

This item is one of a kind!

It measures up to about 1 1/2 inches in length.

This item up for bid is only for this unique Cheetos, bag not included.
This makes a great collectible for anyone who appreciates rare items!
The auction ended early Tuesday morning. After receiving 132 bids, it sold for $99,900, according to the listing.