This is an archived article and the information in the article may be outdated. Please look at the time stamp on the story to see when it was last updated.
INDIANAPOLIS, Ind. (April 8, 2015) – North Central senior Stefan Stoykov has been accepted to all eight Ivy League schools and 18 colleges across the United States, in total.
Stoykov was born in Bulgaria, and he moved to the United States with his family when he was eight-years-old.
He started the second grade at Nora Elementary school in Washington Township without knowing any English.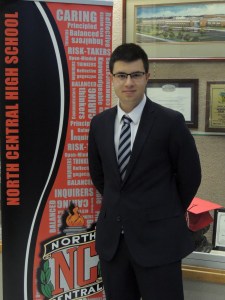 "Facing the challenge of learning the English language at the age of 8 years old, proved to me that I can accomplish many things," said Stoykov.
Stoykov's long list of accomplishments includes:
Valedictorian (class of 802 students), perfect score on the SAT (2400), $2500 National Merit Scholarship, National AP Scholar, member of Student Council, Spirit Week Chair (for 3500 students), National Honor Society, Tutoring Chair, 3 of the Ivy League acceptances include full ride scholarship, and Academic Quiz Bowl.
"North Central High School and the IB (International Baccalaureate Diploma Program) have provided me the academic excellence required to achieve learning at a higher level," said Stefan.