This is an archived article and the information in the article may be outdated. Please look at the time stamp on the story to see when it was last updated.
CLEVELAND, TN – A Tennessee police officer may go down as the greatest Salvation Armey Red Kettle ringer in history!
On Monday, the Cleveland, Tennessee Police Department participated in the Battle of the Bells challenge from our local Salvation Army, Sgt. Evie West told FOX59.
They dueled the Bradley Co. Sheriff's Office at the entrance doors of a local Walmart.
Cleveland Police officers were scheduled to man the kettle every hour. Officer Sean Bulow and Officer Russell Fredericks were the first bell ringers in the morning. After a few minutes into his shift, Officer Bulow decided to kick things up a notch. He played music through the patrol car PA system and started dancing to encourage shoppers to donate their spare change.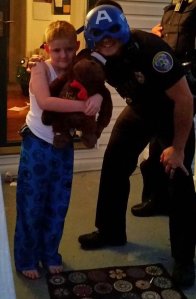 The police department posted a video of Bulow's performance on their Facebook page. Within a few hours, the video had over 10,700 shares and has been viewed nearly 800,000 times!
The Cleveland officers collected a total of $1141.06 for the Salvation Army.
This is the first year Bullow was asked to ring the bell for the Salvation Army. Sgt. West says he is "one-of-a-kind." West told FOX59 about one incident in which he was on a call and encountered a little boy who was really upset. So he ran to his car and put on his Captain America mask to brighten the boy's day.