This is an archived article and the information in the article may be outdated. Please look at the time stamp on the story to see when it was last updated.
MOORESVILLE, Ind. (August 27, 2015) - There are many perks to social media, but there is a flip side.
"There have been multiple events throughout the nation and several local events where I think it's important that we expose these potential issues and then provide some information so people can protect themselves and their children," said Morgan County Sheriff's Office Captain Brent Worth.
The "When Social Media Goes Bad" event Thursday night is designed for late elementary through high school students and their parents. Capt. Worth said it would also be beneficial for many grandparents.
"We're going to be presenting some pretty powerful examples of how things can go bad with social media and how we've seen that in recent media throughout the nation," said Capt. Worth. "We're going to expose those issues, show how easy they can become a victim of these crimes and problems and also provide them with information on how to make themselves more safe by protecting them and their online profiles, keeping them from providing personal information, keeping their locations private, protecting their reputation and then exhibiting other warning signs."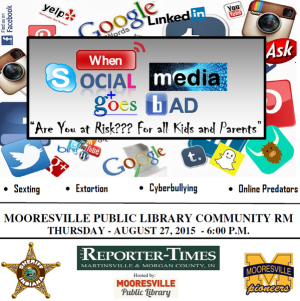 Capt. Worth said they'll talk about sexting, extortion, cyberbullying and online predators. They'll also discuss how to really be involved with your kids.
"If you have a connection with your children then they're going to be more apt to let you know if they're approached inappropriately or if they receive something inappropriately and that can be handled at that time, rather than it progress and they get in a potentially worse situation."
"There's recent research that came out over the weekend I believe through Indiana University that says one in six girls under the age of 18 are victims of sexual crimes. And it's not only girls that are involved in these instances, we also see cases with boys and men that are involved in social media crimes and problems and being victims. So I think it's important that we expose these issues, and it's probably going to be one of the leading problems we have with our youth."
"When Social Media Goes Bad" is at the Mooresville Public Library in the Community Room at 6 p.m.
If you can't attend, you can contact the Morgan County Sheriff's Office or your child's school for more information.