This is an archived article and the information in the article may be outdated. Please look at the time stamp on the story to see when it was last updated.
INDIANAPOLIS (June 16, 2015) – FOX59 obtained more than 200,000 traffic citations issued last year by Indiana State Police to find out where drivers are getting ticketed the most.
First, we focused on 465. FOX59 went through every citation issued around the loop and we found some lopsided results. Drivers on the west side of 465 are twice as likely to get a citation as those on the east side.
"Probably the open road. This side of town is a very straight stretch of road," said Corey Berfield with Indiana State Police. "When people have a very straight road in front of them and nothing obstructs the view, they tend to go a little faster."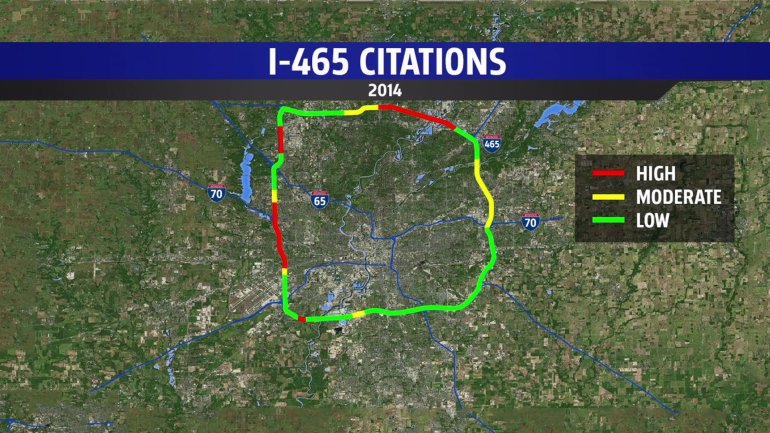 FOX59 compiled the thousands of traffic violations together on the map above. You can see the west side has far more citations than the east.
"It may be because one particular officer is very prone to writing traffic. This may be where he likes to sit, and where he works," said Berfield.
Here's a breakdown of the top three spots traffic citations are issued around 465.
Washington St. – W. 38th St. (West Side)
W. 71st St. – W 86th St (West Side)
U.S. 31 to Allisonville Rd. (North Side)
The spot where drivers are least likely to get ticketed is also near Washington Street… but on the east side.