This is an archived article and the information in the article may be outdated. Please look at the time stamp on the story to see when it was last updated.
WHITELAND, Ind - Several residents who live along Whiteland Road say they're getting fed up with drivers who disregard a "road closed" barrier near their homes, before using their driveways and yards to turn around.
The trouble is happening along Whiteland Road, just west of I-65. Construction crews have been working for the last month to construct a new roundabout at the intersection of Whiteland Rd. and Graham Rd. About half a mile east of the closure, barrier signs say "Road Closed, .7 miles ahead, local traffic only." But the signs aren't enough to deter drivers from trying to continue their trip into Whiteland.
"People just keep coming through the barricades even though it says road closed," said Whiteland Road resident Dotty Plummer. "As soon as they come past that second barricade, they're flying. And they can't go anywhere. They have to go around there, turn around and come back."
Plummer says the last month has been filled with a constant stream of drivers bypassing the closure barrier, realizing they can't continue, and using her neighbors driveways to turn back around.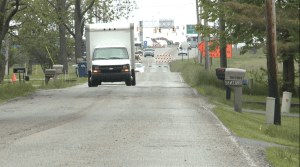 At least, most of the drivers use driveways. Not all of them do.
"My husband is very particular about the yard," Plummer said. "And you can see the tracks where somebody has just swung around."
Some neighbors have started taking matters into their own hands. Somebody who lives nearby added a hand-written cardboard sign to the barrier. It reads "You can't get through."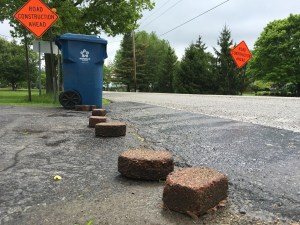 Plummer's own mother-in-law has also taken action.
"My mother-in-law lives eight houses down from us and she put bricks along the end of her driveway because people were tearing up the asphalt in her driveway, coming and turning around," Plummer said.
Further down the street, Emily Wood has a fresh set of tire tracks through her front yard where a turnaround driver veered off the roadway.
"I don't mind them using the driveway if they stay on the driveway," Wood said. "That's the biggest problem. It's just been a mess for everybody."
Smaller cars and other passenger vehicles are easily able to use the driveways to turn around and find a new route.  But semi truck drivers have to put their big rigs in reverse and retrace the 0.7 miles backwards. Some box truck drivers are able to make the U-turn, but others aren't.
"I had a Coca Cola truck one day, and the next day is was a Meijer truck," Wood said.
Several days ago, Wood watched and took photos of an ice delivery truck that got stuck after it turned around in her driveway and backed off the roadway. A tow truck had to be called to pull it from a neighbor's yard.
Whiteland Town Manager Norm Gabehart says Whiteland Police have increased patrols along Whiteland Road and officers have issued dozens of warnings and tickets in recent weeks. Gabehart says he and other town officials will review the situation to see if any additional signage should be employed to prevent more driver confusion.
Construction on the roundabout continues through the rest of this month and into June. The closure of Whiteland Road is scheduled to continue through June 11.