This is an archived article and the information in the article may be outdated. Please look at the time stamp on the story to see when it was last updated.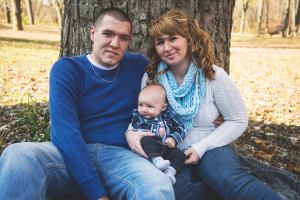 HOWARD COUNTY, Ind. (March 22, 2016) –
The wife of Howard County Deputy Carl Koontz shared several photos of their son wearing his father's badge.
Kassandra Koontz posted the photos of her 8-month-old son Noah on her Facebook page Tuesday morning to "lighten the mood a little."
Deputy Koontz was shot in the line of duty while serving an arrest warrant around 12:30 a.m. in Russiaville. He was taken to IU Health Methodist Hospital in Indianapolis, where he succumbed to his injuries. Koontz's body was transported from Marion County to Howard County on Monday.
Friends of Deputy Koontz described him as a family man. He was married to Kassandra for nearly three years, and he was very loved in the community.
His visitation is set for Monday, March 28, from 1 p.m. to 7 p.m. at Northwestern High School. The funeral is Tuesday, March 29, at 11 a.m. at the high school. Burial will follow at Albright Cemetery in Kokomo.